Former chancellor named Judicial Vicar of Military Archdiocese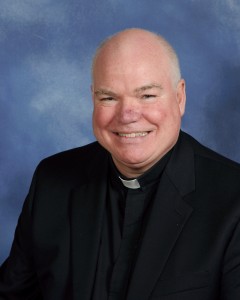 Press Release
Father Christopher Armstrong, current pastor of St. Antoninus Church in Cincinnati, has been appointed Judicial Vicar of the Archdiocese of Military Services.  Archbishop Timothy Broglio announced the appointment Monday, Aug. 11. Father Armstrong assumes his new duties at the AMS Pastoral Center in Washington, D.C., on Oct. 1. 
The procedure for replacing a pastor typically involves the local archbishop, in this case Archbishop Dennis M. Schnurr, naming a temporary parochial administrator to fill the void, before naming a pastor later.
As Judicial Vicar, Father Armstrong will be responsible for overseeing the work of the archdiocesan Tribunal, which handles matters concerning the nullity and dissolution of marriage. He succeeds Msgr. Thomas Olszyk, who retired last month after eight years as Judicial Vicar.
"Father Armstrong has served the Archdiocese of Cincinnati with distinction in many roles, including pastor and Chancellor," said Archbishop Schnurr. 'Holding doctorate degrees in Canon Law and theology, he is eminently qualified for his new position as Judicial Vicar for the Archdiocese for the Military Services, USA. It is for this reason that when Archbishop Broglio asked for his assistance, I did not hesitate to give my approval. I wish Father Armstrong well in this challenging ministry."
Father Armstrong is a native of Dayton. He graduated from St. Albert the Great Parish School in Kettering, Ohio; Archbishop Alter High School in Dayton; St. Gregory College Seminary in Cincinnati; and the Pontifical Gregorian University in Rome. He was ordained a priest in 1980. Father Armstrong has advanced degrees in canon law and Marian Studies from the Catholic University of America in Washington, D.C., and the International Marian Research Institute at the University of Dayton. He has taught canon law for nearly 20 years at Mount St. Mary Seminary at the Athenaeum of Ohio.
Father Armstrong taught for nine years at Lehman Catholic High School in Sidney, Ohio. He was parochial vicar at Holy Angels Catholic Church in Sidney and at St. Michaels Catholic Church in Fort Loramie, Ohio. He spent several years in central administration of the Archdiocese of Cincinnati, serving as the Administrative Assistant to Archbishop Daniel E. Pilarczyk, Chancellor of the Archdiocese, and pastor of St. Louis Catholic Church in Cincinnati. Father Armstrong is currently pastor of St. Antoninus Catholic Church in Cincinnati.
"Father Armstrong brings a wealth of knowledge and experience to this important role in the pastoral ministry of the Archdiocese for the Military Services," Archbishop Broglio said. "I am grateful to Archbishop (Dennis M.) Schnurr for releasing him and to Father Armstrong for accepting these new responsibilities."
In accepting the position, Father Armstrong said: "I look forward to this opportunity to serve our Church and our country. I am grateful for Archbishop Broglio's confidence in me and entrusting to me one aspect of his pastoral care for the Archdiocese for Military Services."
CT Staff contributed to this report. 
Posted Aug. 11, 2014