Archbishop Schnurr: CRS collection serves needs around world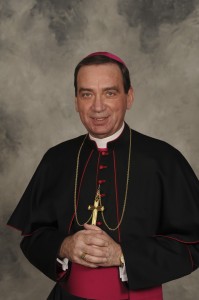 The following letter from Archbishop of Cincinnati Dennis M. Schnurr first appeared in the April 2016 print edition of The Catholic Telegraph.
"Dear Brothers and Sisters in Christ,
The Archdiocese of Cincinnati will be taking up The Catholic Relief Services Collection on April 9 and 10. This collection funds six Catholic agencies that work to serve Jesus in the disguise of our suffering brothers and sisters around the world. Your support of this collection is an opportunity to help Jesus in disguise.
Among the stories CRS has reported to me I would like to share this one with you. In 2005, in war-torn Afghanistan, Aazar and Ali lost their family due to their father's political affiliations. The boys, 10 and 8 years old, fled to Pakistan, looking for safety. Shortly after they arrived in Quetta, Pakistan, they were separated, and despite days of searching, Aazar could not find his younger brother. Continuing to receive threats, Aazar was forced to keep moving. He finally reached an orphanage in Turkey, where he was granted refugee status. In 2012, he received a referral to be placed in the United States Conference of Catholic Bishops' (USCCB) Unaccompanied Refugee Minor (URM) program.
Once here in the United States, Aazar reached out to the BBC, which held a nightly radio broadcast in the Middle East to find missing persons, for help in finding Ali. In a week, his brother was found alive in Pakistan He had been residing with a family as a domestic helper and so did not attend school, nor did he have any friends. The USCCB's Migration and Refugee Services (MRS) program began working with agencies in the US and Nepal and with the United Nations to reunite the brothers. Ultimately, Ali was also referred to the USCCB URM program. After nine years of separation, the brothers were once again reunited.
MRS is one of the six worldwide Catholic relief agencies funded by The Catholic Relief Services Collection. Through the other five agencies you:
• Give water to quench Jesus' thirst in the people of Bolivia and Ethiopia through the humanitarian
work of Catholic Relief Services (CRS).
• Offer legal assistance to Jesus in struggling immigrants through the Catholic Legal Immigration
Network, Inc. (CLINIC).
• Reach out to comfort Jesus' loneliness in isolated workers through the pastoral work of the USCCB Secretariat of Cultural Diversity in the Church.
• Advocate on behalf of Jesus in the poor and abandoned through the public policy work of the
USCCB Department of Justice, Peace and Human Development.
• Send aid to Jesus in the victims of natural disaster through the Holy Father's Relief Fund.
Your generosity to the Catholic Relief Services collection makes a difference.
Sincerely yours in Christ,
Most Reverend Archbishop Dennis M. Schnurr
Archdiocese of Cincinnati"