Archbishop Schnurr installs Bishop Thomas in Toledo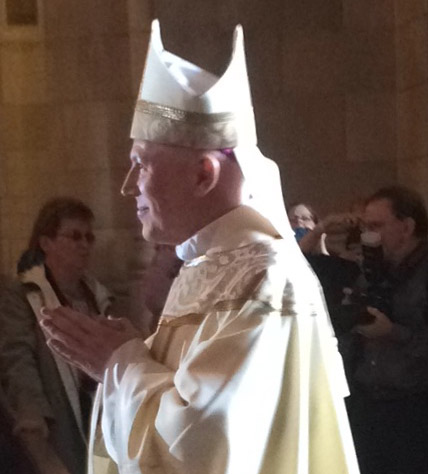 Staff Report
The Most Reverend Daniel E. Thomas was officially installed as the eighth bishop of the Diocese of Toledo Wednesday at Our Lady, Queen of the Most Holy Rosary Cathedral in Toledo.
As the Metropolitan Archbishop the Ecclesial Province of Cincinnati, Cincinnati Archbishop Dennis M. Schnurr presented Bishop Thomas with his crosier. Archbishop Schnurr and Archbishop Carlo Maria Vigano, the apostolic nuncio to the United States, were the installing bishops.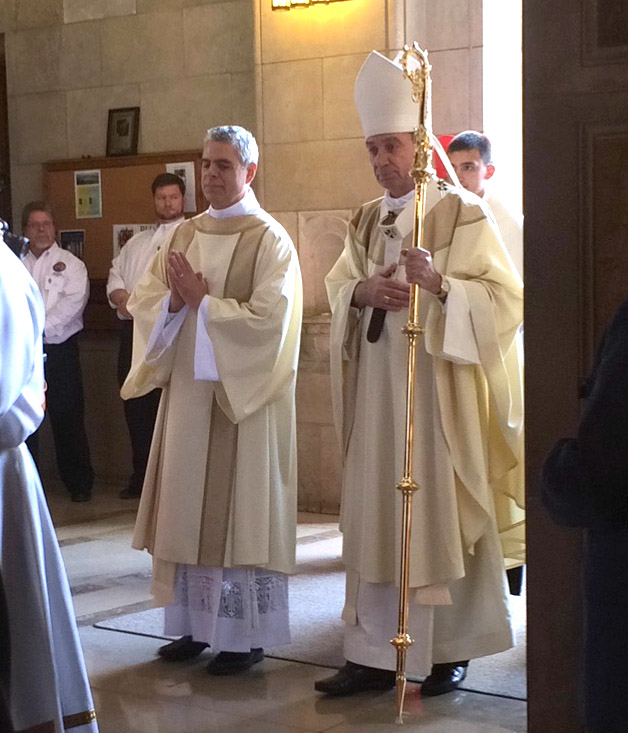 The installation Mass was too packed with invitees for the general public to attend, but it was televised on EWTN and was live-streamed online via the Diocese of Toledo web site.
Among the attendees were Cardinal Timothy Dolan, archbishop of New York; Archbishop of Hartford Conn. Leonard C. Blair (Thomas' predecessor); Archbishop of Philadelphia Charles Chaput; and Cincinnati Auxiliary Bishop Joseph R. Binzer, among many others.
During his homily, Bishop Thomas explained his mission.
"The task of each bishop, together with all the people, is to announce the good news and proclaim the gospel of Christ," Bishop Thomas said. "To all the faithful of the Diocese of Toledo, as their new shepherd in Christ, I pledge that when the evil one comes, I will not run away. And I pray that, with you, we will stand against him in every temptation."
Bishop Thomas was named the new Bishop of Toledo in August, succeeding Bishop Blair. Bishop Thomas had most recently served as Auxiliary Bishop of the Archdiocese of Philadelphia.
Bishop Thomas is now the shepherd of 319,000 Catholics spread throughout 124 parishes in 19-counties across northwestern Ohio.
The Diocese of Toledo was established in 1910 out of territory from the Diocese of Cleveland. The Diocese of Cleveland was established in 1847 out of the then-Diocese of Cincinnati. The southern edge of Toldeo's diocese borders the northern end of the Archdiocese of Cincinnati.
The dioceses of Columbus, Stuebenville and Youngstown are also suffragan dioceses to Cincinnati.
Posted Oct. 23, 2014