Throwback Thursday: Four area bishops installed in 1945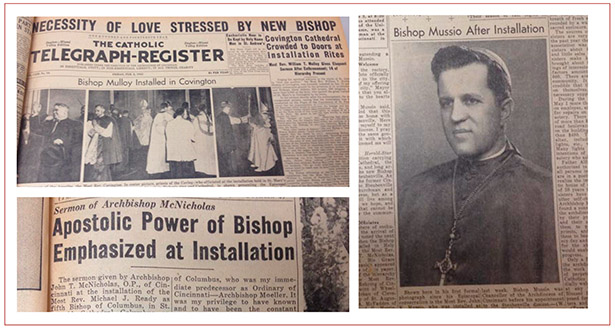 Staff Report 
Another story you'll see at TheCatholicTelegraph.com today is about the installation of Bishop Daniel Thomas of the Diocese of Toledo. While bishops of one diocese have no particular authority of the faithful of other dioceses, their installations and appointments are always newsworthy. 
Often many bishops from the surrounding area will gather together, along with the papal nuncio, for the installation Masses. That unity highlights the universality of the church, and the understanding that there is a fraternal spirit among the bishops.
That long-winded intro brings us to today's Throwback Thursday.
In 1945 the United States was in the final days of World War II but, as happens through any world conflict, the life of the church continued. Locally, Archbishop John T. McNicholas headed the Archdiocese of Cincinnati. He was in year 20 of his 25-year episcopate but changes were afoot elsewhere. In fact, three of Cincinnati's five suffragan dioceses got new bishops that year, as did neighboring Covington to the south.
In 1945, bishops almost always died in office. Because of this, there was slightly less turnover in the episcopacy than today, making 1945 a standout year with so many changes in the region.
The most significant installation of 1945, for this region anyway, was likely that of Bishop Anthony Mussio as bishop of the newly created Diocese of Steubenville. The diocese was created in 1944. On May 23, 1945, he was installed at Holy Name Cathedral.
Mussio was born in Cincinnati and graduated from St. Xavier High School before attending Xavier University. He would eventually serve as chancellor of the Archdiocese of Cincinnati before being named to his post in Steubenville.
Other regional changes included:
The Diocese of Columbus welcomed Bishop Michael Ready as the fifth bishop of that diocese with an installation Mass on Jan. 4.
Later the same month, Jan. 25, Bishop William Mulloy was installed in Cincinnati's neighboring Diocese of Covington as that diocese's sixth bishop.
The Diocese of Cleveland welcomed its sixth bishop as well in 1945 as then-coadjutor Bishop Edward Hoban succeeded Archbishop Joseph Schrembs upon the latter's death.
Welcome to The Catholic Telegraph's edition of Throwback Thursday. Throwback Thursday is a weekly online activity wherein users of social media share an old photo or anecdote about times gone by. We use Throwback Thursday to highlight the history of the Archdiocese of Cincinnati, and our publication.
Previous Throwback Thursdays
Habemus John Paul II
The death of a Pope
Guardian Angels artist was spot on
Catholic prep football in the CT
Archbishop Bernadin makes the Tribune
Sept. 11, 2001
Computers all the rage in 1983
English permitted in some rituals