Archbishop Schnurr meets Pope Francis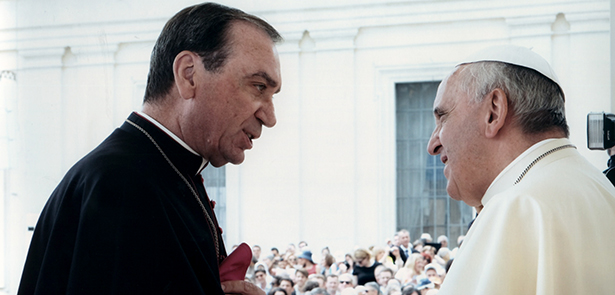 Staff Report
Archbishop Dennis M. Schnurr met briefly with Pope Francis during a June 25, General Audience in Rome.
During the brief meeting, Archbishop Schnurr spoke Italian. The archbishop introduced himself to the Holy Father and extended greetings and prayers from the faithful of the Archdiocese of Cincinnati.
Responding in English, Pope Francis answered, "Pray for me."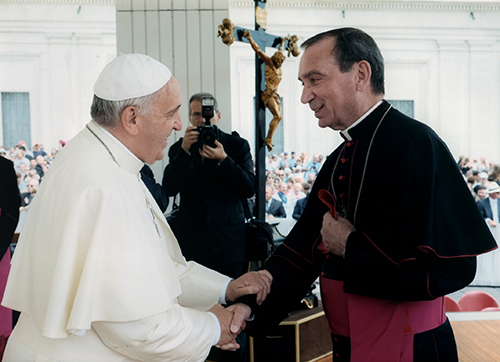 Archbishop Schnurr was in Italy for a reunion of classmates celebrating the 40th anniversary of their seminary class at the Gregorian University in Rome. Later this month, July 20 to be exact, will mark the 40th anniversary of Archbishop Schnurr's ordination to the priesthood.
While in Rome, Archbishop Schnurr also witnessed Archbishop Leonard P. Blair's pallium presentation June 29 at St. Peter's Basilica. Archbishop Blair, now the Ordinary for the Archdiocese of Hartford, Conn., was bishop of Toledo from Oct. 7, 2003 until Dec. 16, 2013. The Diocese of Toledo is a suffragan see to the Archdiocese of Cincinnati.
 Posted July 10, 2014