Archdiocese announces interim superintendent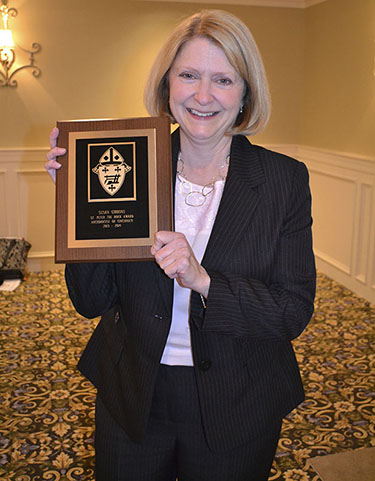 Staff Report
The Archdiocese of Cincinnati announced today that Susie Gibbons will be the Interim Director of Educational Services and Interim Superintendent of Catholic Schools, effective Oct. 1.
Gibbons will replace Jim Rigg who announced his resignation late last month. Rigg's last day is officially Oct. 2.
Read More:
Jim Rigg named superintendent of Chicago Catholic Schools
The archdiocesan press release follows.
FOR IMMEDIATE RELEASE, September 2, 2015

Ms. Susie Gibbons, a Regional Director of Catholic Schools for the Archdiocese of Cincinnati and a veteran Catholic school educator, has been appointed Interim Director of Educational Services and Interim Superintendent of Catholic Schools, effective Oct. 1.

"A graduate of Archdiocesan Catholic Schools, Susie Gibbons has devoted her entire career to Catholic education in our Archdiocese," said Archbishop Dennis M. Schnurr, who made the appointment. "She will be a steady hand as Interim Superintendent over the next several months, insuring that the strong forward movement of our schools will continue."

She succeeds Dr. Jim Rigg, who was appointed late last month as Superintendent of the Archdiocese of Chicago Catholic Schools, the largest private school system in the country. He will remain Superintendent in Cincinnati until the end of September.

Ms. Gibbons joined the Catholic Schools Office in 2010. As Director for the Southwest Cluster and Secondary Schools, Dr. Rigg said, "she has been a constant voice of wisdom and support to her assigned principals." Before joining the Catholic Schools Office, she was principal of Seton High School in Cincinnati for 13 years. She previously served as an Assistant Principal, Department Chair, and teacher at Seton, as well as a math and French teacher at Archbishop Alter High School. An Alter graduate, Ms. Gibbons holds a bachelor's degree from the University of Mount St. Joseph and a master's degree from Xavier University.

"Susie has been an invaluable member of my staff," Dr. Rigg said. "She is a woman of great integrity, intelligence, and drive. She has a vibrant faith life, and lives out this faith in her compassionate and Christian treatment of others. Susie has my complete confidence in continuing the forward momentum of our Catholic schools."

A national search for the long-term Superintendent of Catholic schools is expected to begin later this year.
Posted Sept. 2, 2015