Throwback Thursday: Sisters of the Poor rich in… elephants?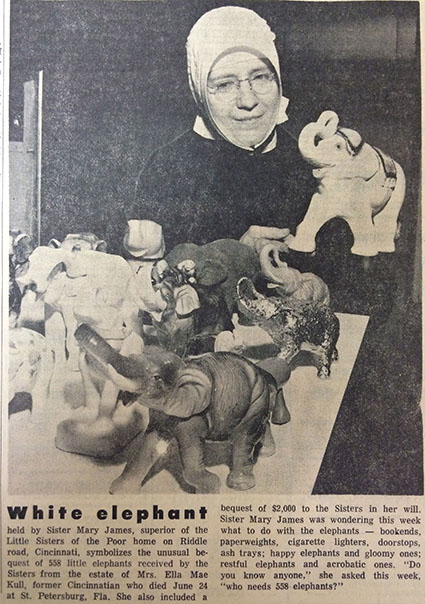 Staff Report
The generosity of the faithful is constantly on display in this archdiocese. The Catholic Ministries Appeal and the One Faith, One Hope, One Love capital campaign are shining examples of how giving local Catholics can be to the archdiocese, but they're just as generous to the religious orders serving in our area.
Often a man or woman will leave something in their will to a religious order that played an important role in their life, but sometimes the donations are, to say the least, unique.
About 50 years ago, in 1965, the Little Sisters of the Poor in Cincinnati received a monetary donation but along with it, there was an elephant in the room — literally. On the death of former Cincinnatian Ella Mae Kull, the Little Sisters received a check for $2,000 and 558 elephants.
The package of pachyderms included figurines, bookends, cigarette lighters, ash trays, door stops and more. The photo above, showing Sister Mary James holding a white elephant, appears to have been an attempt to find a suitable home for the donation. This image was published in the Sept. 10, 1965 edition of The Catholic Telegraph-Register.
While the donation was certainly made as a loving gesture, Sister Mary James asked the public, "Do you know anyone who needs 558 elephants?"
The Throwback Thursday staff has reached out to the Little Sisters of the Poor to find out if anyone remembers what happened this mammoth donation. Check back in with this story later today to see what we're able to find out.
Welcome to The Catholic Telegraph's edition of Throwback Thursday. Throwback Thursday is a weekly online activity wherein users of social media share an old photo or anecdote about times gone by. We use Throwback Thursday to highlight the history of the Archdiocese of Cincinnati, and our publication.
Recent Throwback Thursdays
Summer riding off into sunset
Archbishop installs neighboring bishop
Cutting edge tech in Catholic school in 1962
Remembering the Ice Bucket Challenge
Remember your religious obligation
Posted Sept. 3, 2015