Archdiocese employee honored by CRS Rice Bowl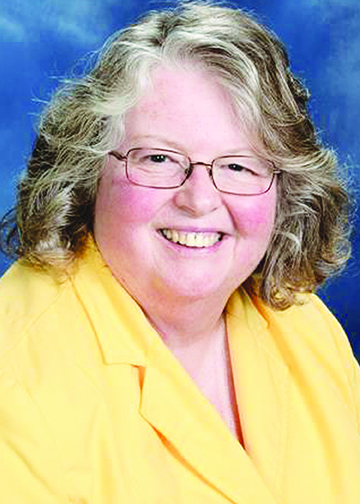 Pam Long, regional director for Catholic Social Action and the Catholic Relief Services' Diocesan Director in the Archdiocese of Cincinnati, received the 2016 CRS Rice Bowl Award today at the annual Catholic Social Ministry Gathering in Washington, D.C. The award was presented to Long by Joan Rosenhauer, Executive Vice President of U.S. Operations for CRS Jan. 23.
CRS presents the award each year to a diocesan partner who has shown leadership and creativity in using the CRS Rice Bowl Lenten program to strengthen the connection between Catholic families in the United States with families in need around the world. The program, known for its colorful and easy to use collection of prayer and reflections, a daily Lenten calendar, recipes, and videos has become a tradition among Catholic families during Lent.
"For more than 40 years CRS Rice Bowl has encouraged Catholics in the United States to deepen their Lenten experience through prayer, fasting and almsgiving in solidarity with our brothers and sisters around the world. Together we have created a "Rice Bowl effect" that lifts people out of poverty and opens our hearts and minds to the needs of others," said Joan Rosenhauer, Executive Vice President of U.S. Operations for CRS.
"Pam Long's commitment and enthusiasm have been contagious in the Archdiocese of Cincinnati. She has inspired parishes and schools to embrace Lent as a season of faithful reflection as well as action, creating a positive impact on the lives of the most vulnerable people overseas as well as in our own local communities," said Rosenhauer.
As a result of Long's efforts to promote CRS Rice Bowl during Lent, the Archdiocese of Cincinnati was in the top 10% of dioceses in the United States in the amount of revenue generated through the sacrificial donations made by families and faith communities last year.
In addition, Long recruited a group of more than 100 parish leaders to participate in her "Parish Promoters" program which allows leaders to use their unique gifts to bring CRS Rice Bowl to their fellow parishioners. Each year she awards a $750 Challenge Grant to support the parish that incorporates the most innovative idea into their annual CRS Rice Bowl parish plan. As a result, close to 40% of schools and parishes within the diocese have made CRS Rice Bowl's stories and reflections part of their Lenten experience.
CRS Rice Bowl supports efforts to fight hunger and poverty in communities around the world and in dioceses around the United States. Seventy-five percent of alms given during Lent through CRS Rice Bowl are directed to CRS programs that serve the poorest of the poor around the world. Twenty-five percent remains in each diocese to reduce hunger and poverty locally.
Each year, close to14,000 parishes and schools across the U.S. deepen their Lenten journey with CRS Rice Bowl.
To see what's new with CRS Rice Bowl visit http://crsricebowl.org.