Throwback Thursday: 'Slipped the surly bonds of Earth to touch the face of God'
Adults and children around the nation gathered in front of televisions on this date 30 years ago to watch the launch of a space shuttle called Challenger. It was to be the 10th mission for the Challenger and it was carrying Christa McAuliffe, a Catholic, who was set to be the first teacher to travel to outer space.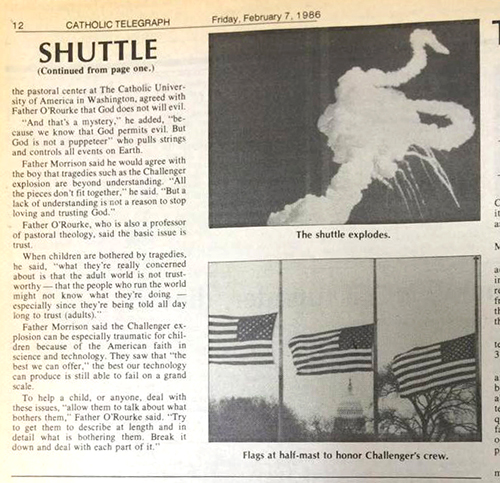 Expecting to see the familiar glow of rockets and plumes of smoke from a successful launch, nearly 17 percent of Americans watched as 73 seconds after takeoff the shuttle exploded, killing all seven members aboard.
The disaster led to the quote in today's Throwback Thursday headline by President Ronald Reagan.
"The crew of the space shuttle Challenger honored us by the manner in which they lived their lives," the president said. "We will never forget them, nor the last time we saw them, this morning, as they prepared for their journey and waved good-bye and 'slipped the surly bonds of earth' to 'touch the face of God."
The initial tragedy of the lives lost was compounded by the many children who witnessed their deaths on live TV. Part of the response in Catholic schools and parishes addressed this issue.
The Feb. 7, 1986 edition of The Catholic Telegraph featured the now-iconic image of the explosion and the following headline, "God didn't do it."
The story, written by the National Catholic News Service's Joe Michael Feist, quotes a young child who attended a memorial Mass and struggled to understand the disaster.
From the story: "'I just don't understand," he told a television reporter, his voice breaking with emotion, "why God wanted to take them now.'"
A Catholic priest from the Diocese of Oakland answered; "I would just try to explain that God didn't do it. It just caught fire and blew up. And that's a mystery. Because we know that God permits evil. But God is not a puppeteer," who pulls strings and controls all events on Earth."
The Challenger disaster caught the attention of the whole world, including Pope John Paul II. The Holy Father called the seven crew members who died "courageous pioneers for the progress of science and humanity."
Welcome to The Catholic Telegraph's edition of Throwback Thursday. Throwback Thursday is a weekly online feature wherein users of social media share an old photo or anecdote about times gone by. We use Throwback Thursday to highlight the history of the Archdiocese of Cincinnati, and our publication.
Recent Throwback Thursdays
Fighting Roe vs. Wade in Year One
Li'l Sisters Keep Kids in Line
Catholic School Grad Griffey Jr. makes Hall of Fame
Caroling with The Catholic Telegraph
Happy Birthday Holy Father