Archdiocese of Cincinnati Catholics prepare to celebrate canonizations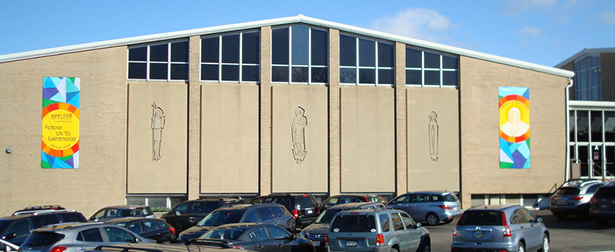 By Eileen Connelly, OSU 
The Catholic Telegraph
Two Catholic schools in the archdiocese that bear the names of future saints will be celebrating the upcoming canonizations of Blessed John XXIII and John Paul II in a variety of meaningful and memorable ways.
Banners hanging in front of John XXIII School in Middletown bear the late pontiff's likeness and announce the school's "Follow us to Sainthood" theme as the students, faculty and staff prepare for the canonization ceremony on April 27. 
"This is a once in a lifetime opportunity, a real teachable moment in history," said Dawn Pickerill, principal. "It's a chance for the students, for all of us, to learn more about what John XXIII did in his lifetime that led to his becoming pope, what we can take away from his example and incorporate into our own lives."
The school community will come together for a special Mass on April 24, after which they will don their "Follow us to Sainthood T-shirts for their first ever walk-a-thon to raise funds in support of good works in the spirit of Blessed John XXIII. The students will also take part in a writing project based on a quote from the pope's autobiography, Journey of a Soul: "I will not forget that I am never alone, even when I am by myself…"
Another quote from the late pontiff, "Consult not your fears but your hopes and your dreams. Think not about your frustrations, but about your unfulfilled potential. Concern yourself not with what you tried and failed in, but with what it is still possible for you to do," is serving as inspiration for the members of the student Art Club as they decorate a prominent wall in the school. "It speaks well to our students who work so hard, but sometimes get frustrated," Pickerill explained.
Other activities include plans for each religion class to focus on some aspect of Blessed John XXIII's life, and a school wide service or outreach project to the local Jewish community in recognition of the late pontiff's groundbreaking efforts to improve Christian-Jewish relations. A special Family Night is also planned, featuring a potluck dinner and a showing of the movie "I Would be called John: John XXIII."
"We're hoping that this sparks conversation about John XXIII, so our families can continue spread the good news," Pickerill said.
Lisa Woodall, coordinator of religious education at John Paul II Catholic School in Cincinnati (JPIICS), said that soon after the canonization date was announced, the faculty began soliciting ideas from students about how to celebrate, and after brainstorming amongst themselves, staff and parents, a number of ideas developed.
"We are very excited about the event," said Woodall. "It is not lost on any of our faculty and staff how unique it is to have the opportunity to celebrate the canonization of the patron of a school, and we have tried to make that point with our students. We want them to understand what an extraordinary person he was."
The students in kindergarten through the third grade have already started working on decorating images of Blessed John Paul II's Coat of Arms. These will be assembled into a colorful garland to hang in the lobbies of the school's partnering parishes — St. Bartholomew, Our Lady of the Rosary and St. Clare, during the canonization.
JPIICS students will return from spring break on April 28 to begin a weeklong celebration. Each day the school will focus on different aspect of Blessed John Paul II's life. The focus on that Monday will be on the arts, recognizing the pope's passion for the theatre and poetry. The school will have a John Paul Arts Festival, inviting all students "to offer their creative works as gifts to the world" by celebrating through visual arts, writing or performance the life and gift of Blessed John Paul II
On Tuesday, the school will focus on the role of athletics in the life of the late pontiff and on the power of friendship. In December 2012, JPIICS sixth graders, along with the middle school students from Rockwern Academy, toured an exhibit at Hebrew Union College called "A Blessing to One Another," centered on the relationship[p between Blessed John Paul II and the Jewish people. The exhibit featured the lifelong friendship of Jerzy Kluger and Karol Wojtyla beginning as first-graders, and lasting until the pope's death in 2005. In honor of JPII's athleticism and loyal friendship that changed the way Catholics and Jews relate to each other, Rockwern will join JPIICS for an interfaith prayer service, followed by a friendly game of soccer. Auxiliary Bishop Jospeh R. Binzer and Rabbi Abie Ingber will be present for the events.
Blessed John Paul II's Marian devotion, which developed after the death of his mother when he was still a young child, will be the focus on Wednesday.  Later in life, he wrote poems and essays explaining that he felt a surrogacy in the Blessed Mother, and that praying the rosary the way his father taught him gave him great comfort. In the third year of his papacy, he survived an attempted assassination of the Feast of Our Lady of Fatima, and he attributed his successful surgery and recovery to her intercession. In honor of the his Marian devotion, the students will begin that day with a "living rosary," during which 67 students will hold a candle for each prayer of the rosary, lighting one candle as each one is prayed.
Thursday's focus will be Blessed John Paul II's love of the outdoors. The school Mass that day will a celebration of the gift of the earth and our duty to be good stewards of the environment.  At the conclusion of Mass, each student will receive a bulb, possibly a lily or gladiola, that will be placed in a prepared bed in front of the school.
On Friday, the school will focus on the phrase "Be not Afraid, which were among the first words Blessed John Paul II spoke to the crowds waiting outside St. Peter's Basilica after his election and a sentiment echoed throughout his papacy. In honor of his legacy of fighting fear with faith, the school will award the JPIICS Nolo Timere Award (Latin for "Be Not Afraid").  The award will be given to and individual (or individuals) who has demonstrated an exemplary faith in the face of an extraordinary challenge, and has not let their fear — no matter how justified or understandable — keep them from moving forward with their life. The nominations for this award will be made by the students, and may include family members, friends or people they have heard about on the news or researched. Nominations were due by March 28.
At St. Adalbert Parish, founded in 1903 to serve the Polish Catholic community in Dayton and vicinity, Blessed John Paul II's canonization will have special significance, said Father Eric Bowman, pastoral administrator. The parish will celebrate a special Mass, featuring songs and Scripture readings in Polish, followed by a reception.