Archdiocese of Cincinnati contingent, with Archbishop Schnurr, arrives in Honduras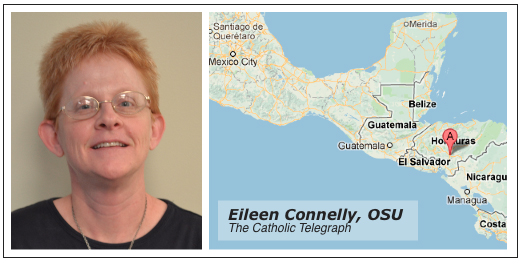 By Eileen Connelly, OSU
A contingent from the Archdiocese of Cincinnati arrived Tegucigalpa, Honduras, Jan. 31, where its members were greeted by the warmth and hospitality of the Honduran people.
The group will be in the country through Feb. 5, taking part in festivities surrounding the feast of our Lady of Our Lady of Suyapa, patroness of Honduras and Central America, and visit with twinning partners at two local area parishes. The group is being led by Mike Gable, director of the archdiocesan Mission Office.
The visitors were welcomed at an evening Mass at St. Dominican Savio Parish, which twins with St. Margaret of York Parish in Loveland. Father Juan Angel Lopez, pastor, presided, assisted by Archbishop Dennis M. Schnurr, Father Jan Schmidt, pastor of St. Margaret of York, and Father Jason Beadel.
A highlight of the Mass was music provided by young people from the archdiocese of Cincinnati and members of the parish choir, who sang songs in both English and Spanish during the liturgy. The choir, under the direction of Karen Kane, director of the archdiocesan Worship Office, and Bob Wurzelbacher, associate director of the Office of Youth and Young Adult Ministry, came together just four weeks ago specifically to practice and share their talents during the trip.
During his homily, Father Lopez said, "It's beautiful to have you here as a choir, using the gifts God has given you with your singing. You are teaching us how to share our faith."
Father Lopez noted that during the Year of Faith, it is important that Catholics not hide their faith, but rather renew it. "We have to come forward," he said. "What the world needs is witness to our faith. We are to be witnesses of the Lord."
"Thank you for being here with us and for sharing your faith, which is our faith," he said to the visitors.
"To share our faith during an experience like this is global solidarity at its finest," Gable said.
During their time in Honduras, the travelers will also visit a local grade school, AIDs hospital, and take part in a conference with their twinning partners regarding the Year of Faith.