Social Media lets folks at home follow March for Life [Photo gallery]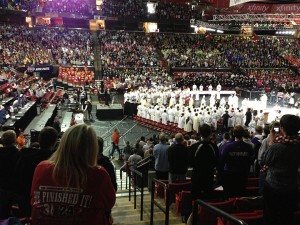 By John Stegeman
The Catholic Telegraph
When hundreds of people from the Archdiocese of Cincinnati headed to Washington, D.C., for the March for Life, they no doubt expected ambivalence from the national and even local secular news media. They got it.
With the increasing popularity of social media sites like Facebook and Twitter, however, those at the march were able to send photos, updates and even videos to friends and family at home, keeping them abreast of the March for Life's progress.
The Catholic Telegraph took advantage of the opportunity, asking its Twitter (@CathTelegraph) and Facebook followers at the march to send in their photos. Numerous people and organizations did just that, sending in several of the photos seen accompanying this story in the gallery below.
Many of the photos The Catholic Telegraph received via social media were promoted on Facebook and Twitter and the majority of those were retweeted, some were even used by the Catholic News Service.
A photo of the Youth Rally Mass, sent in by St. Ignatius teacher Tasha Grismayer who attended the march as a chaperon to a group from McAuley High School, was retweeted more than 20 times.
The 2013 March for Life marked the 40th anniversary of the Roe vs. Wade decision, which effectively legalized abortion in the United States. Since that decision, more than 55 million children have been killed by abortion.