Book remembers the day Roger Bacon beat LeBron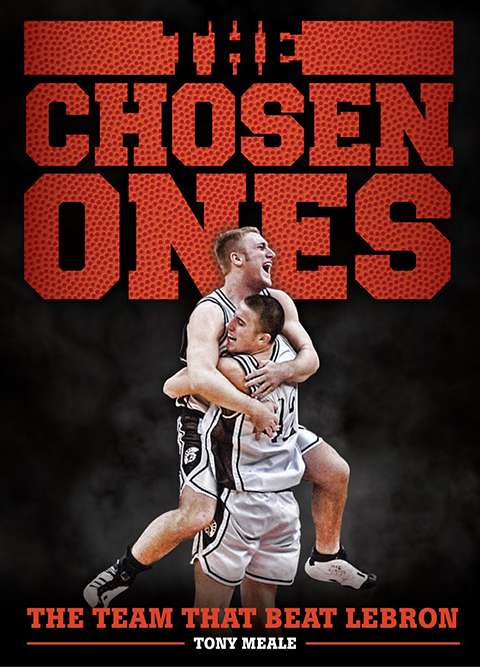 By John Stegeman
As the high school basketball season wound down in 2002, a Sports Illustrated cover story introduced the nation to a man most of Ohio already knew. LeBron James, then a junior at Akron St. Vincent-St. Mary High School, was dubbed "The Chosen One" by America's premier sports publication.
Five weeks later, on March 23, 2002, James and the Fighting Irish were playing for a third-straight state championship, but a talented team from Roger Bacon refused to be intimidated. When the buzzer sounded, Roger Bacon had dethroned King James 71-63.
James and the Irish bounced back to defeat Alter in the state title game the next year and James has gone on to justify his "Chosen One" designation by becoming an NBA superstar. The 2002 Roger Bacon team didn't spawn any NBA players, but its incredible story has been chronicled in a book by local author and speaker Tony Meale.
The book's title — The Chosen Ones: The Team That Beat LeBron — sums up the way that the 2002 Spartans are remembered.
An Archdiocese of Cincinnati native, Meale attended St. Xavier High School, graduating in 2003, the same year as James. While Meale didn't play varsity sports at St. X, he saw the 2002 Roger Bacon team defeat his alma matter and knew they were a talented squad. Like most following the Spartans run through the 2002 OHSAA state tournament, Meale knew no matter how well Roger Bacon played, the state title that year would come through LeBron and St. Vincent-St. Mary.
"All along I gave them no chance of winning that state title game, and when they did, I was stunned," Meale said. "I still remember reading the coverage in the (Cincinnati) Enquirer that weekend. Once that shock subsided a little bit, my thoughts were one, this is very special, and two, it was going to be years before people understand just how special."
After high school, Meale went on to college and graduate school. He ended up back in Cincinnati as a sports writer with The Community Press, covering high school sports. Always fascinated with the story of Roger Bacon's famous win, Meale got the idea to write the book in March of 2011. By July, he'd resigned his job to focus on the project. The book was released in June 2012.
"When I told people what I was going to do, I think they weren't sure if they should be impressed by my courage or questioning my sanity," Meale said. "The economy was not in great shape, still isn't in great shape, and journalism especially is a tough business. People were getting laid off left and right and here I am just willingly walking away from my paycheck to write this book. It was just something that I was really passionate about and still am. I just wanted to tell a good story and hopefully that is what I wound up doing."
Roger Bacon, like its fellow members of Cincinnati's well-respected Greater Catholic League for high school sports, draws students from various parishes and grade schools. Many of the 2002 Spartans were rivals at that level before becoming teammates in high school. Something about that system seems to work, as the GCL has won nearly 50 state titles in the past 10 years.
"I think people are just very rabid about (high school sports), and mostly in a good way," Meale said. "Obviously some people are maybe a little unhealthy about it. It means so much to so many people. The communities here are very strong and there's a strong sense of identity."
Most of the 2002 Roger Bacon state title team went on to college. Athletically, the starting five would all play collegiate basketball. All told, 11 of the 13 went on to compete in college sports.
In addition to being an author, Meale makes a career as a motivational speaker, addressing high school and college students. While the book is about basketball, Meale said there's more to it than that.
"This is a book that definitely goes beyond basketball," Meale said. "You don't necessarily have to like sports or basketball to get something out of it."
To learn more about Meale or The Chosen Ones: The Team That Beat LeBron, visit www.thechosenonesthebook.com.