Archdiocese sponsors construction of Pope Francis House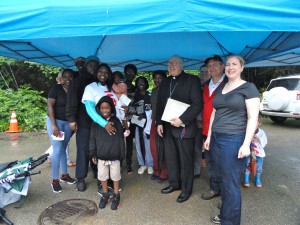 By Eileen Connelly, OSU
What started as a very damp and dreary day was brightened by the faith and enthusiasm of a small group that gathered June 20 for the kick-off ceremony for the construction of a new Habitat for Humanity house, the building of which is being sponsored in part by the Archdiocese of Cincinnati. Dubbed the Pope Francis House, it will be home to a grateful mom and her two children.
Habitat for Humanity of Greater Cincinnati (HFHCC) recently received an anonymous check for $60,000 and the donor is hoping area Catholics will match the donation. The archdiocese is sponsoring the house as part of its Food for All campaign, launching July 1. Food for All aims to honor Pope Francis' challenge to end word hunger by 2025.
"Since the day he was elected pope and adopted the name Francis in honor of St. Francis of Assisi, the Holy Father has frequently exhorted us to stand in solidarity with the poor," said Archbishop Dennis M. Schnurr. "It is altogether fitting, then, that Habitat for Humanity House be known as the Pope Francis House. It is a joy for the archdiocese to be a partner in this project. It is my prayer that this project will provide years of comfort and warm memories to the family building a life together under its roof.
Auxiliary Bishop Joseph R. Binzer, who offered the opening prayer at the kick-off, said, "May the Pope Francis House remind us for years to come that we live under the shelter of God's love."
He noted that local Catholic support of the Habitat House, along with other acts of kindness and service during the Food for All campaign, will be the collective "spiritual bouquet" for Pope Francis in conjunction with his September visit to Philadelphia.
"He has been an inspiration to us regarding how we can love our neighbor," Bishop Binzer said of the pontiff.
During his remarks, Ed Lee, president/CEO of HFHGC, said, "We aren't that different from each other. If we put aside our differences and come together in love and with gladness to serve the Lord, we can do great things."
Lee noted that that local Catholic parishes and volunteers have a long partnership with HFHGC and have participated in many builds.
With her children at her side and other family members and friends standing close by, future homeowner Ebony Bureau, expressed her gratitude and said, "This will build a foundation for my kids so they'll have a place to call home and won't have the struggles I did. I thank God, for without Him, none of this would be possible."
Immediate following the ceremony, guests were invited to sign commemorative boards that will be built into the home — a Habitat for Humanity tradition.
Financial contributions, as well as many volunteers, will be needed to complete this project. For more information, contact Volunteer Coordinator Monica Human at 513-482-5614, or [email protected].
Posted June 23, 2015