Are You A Lampstand or a Bushel Basket?
There is this guy at my office who everybody loves. He is always singing, speaking with an accent or cooking weird food in the kitchen. He greets every person on his way in, usually with more than a passing hello. Heshine  how they are doing and actually seems interested in their reply. He's the kind of guy who knows everyone and always has something kind or encouraging to say. He's positive and funny and it always seems to be in a good mood.
"You are the light of the world. A city set on a mountain cannot be hidden. Nor do they light a lamp and then put it under a bushel basket; it is set on a lampstand, where it gives light to all in the house. Just so, your light must shine before others, that they may see your good deeds and glorify your heavenly Father." (Mt. 5:14-16)
We have all read these verses before and most of us have considered its most straightforward implication: "Do you let your light shine?"
But there is another, less obvious, reflection these famous verses invite us to: Are you a lampstand or a bushel basket? Do you raise people up or put them down? Do people routinely feel better after interacting with you? Do you support others or discourage them? Do people leave an encounter with you shining a little brighter?
Most of us believe we're the lampstand. We generally like ourselves and confirmation bias is real. But I want to invite you to a little honest self-reflection. I'll start.
I don't think I'm always a great lampstand, even though I want to be. At work, I often tell others about some stressful thing that's going on or how busy I am. I can get absorbed in my work and not even acknowledge people when they walk past my desk. At home, I am often short-tempered with my kids, or I'm flying from activity to activity because life is hectic. My wife and I can get lost in the schedules or budgets or chores and forget to stop and really acknowledge the other. Schedules, activities, work, chores, busy-ness, are the things real life is made of. None of those are bad things – they just are. Those are the conditions; the circumstances.
People who are lampstands tend to rise above those conditions, those circumstances. My coworker, for example, has kids similar in age to mine, is also married and works in a demanding of a role. He probably experiences a similar set of circumstances and conditions. And yet, you can't leave an interaction with him without feeling better about life.
Now, stop for a moment and really consider yourself: Do people tend to leave an encounter with you happier, holier, more positive, encouraged, grateful or more joyful? Of course, not every interaction can be like that, but generally.
We're celebrating a lot of important causes this month: World Missions, Respect Life and our Catholic Schools. We shine a light on them because they make the world much better for many. It's a great invitation to reflect on your own life.
Shine a light on yourself this month. Everyone wants to be a lampstand, and most of us intuitively know how to spread joy, encouragement and hopefulness. It doesn't cost you anything and it returns a tremendous reward.
Raising other people up isn't hard, but you have to be intentional about it. Look for opportunities in your daily interactions to encourage and spread God's peace, joy and hope and help others walk away shining a bit more brightly.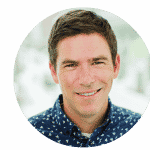 Dominick Albano is the director of digital engagement for The Catholic Telegraph, as well as an author and national speaker. He and his wife have been married for 14 years and have four sons.
This article appeared in the October edition of The Catholic Telegraph Magazine. For your complimentary subscription, click here.