Around the Archdiocese: Jan. 6, 2015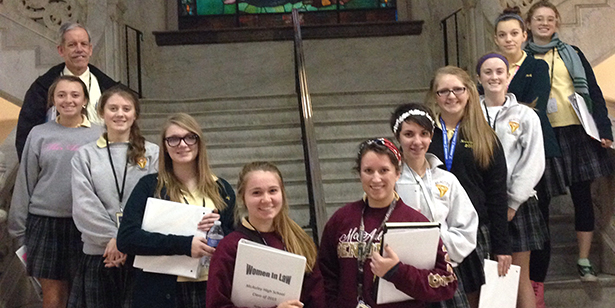 Staff Report
The following are reports from various Catholic institutions around the Archdiocese of Cincinnati.
McAuley 'Women in Law' visit Cincinnati City Hall
Ten students in McAuley High School's Women in Law Program recently visited Cincinnati City Hall as one of their seminars. On Dec. 8, they attended Council proceedings, met with President Pro Tem Yvette Simpson, and had a tour of City Hall.
SVDP Cincinnati offering coats to those in need
Temperatures will be dangerously low this week and St. Vincent De Paul Cincinnati believes none of our neighbors should be unprotected from the cold. Visit 1125 Bank Street in Cincinnati from 8:30 a.m. to 4 p.m., Monday through Friday if you are in need of a winter coat. Spread the word to any in need.
Mount Notre Dame announces new head of school
Following the recommendation of a Search Committee and approval of its Board of Trustees, Mount Notre Dame (MND) has selected Judy Gerwe as its next Head of School, effective July 1, 2015. Gerwe, a graduate of MND, is joining the school from St. Pius X Elementary in Edgewood, Ky. where she served as principal for the past 4 and a half years. Prior to her tenure at St. Pius, she served 22 years at Notre Dame Academy in Northern Kentucky as a teacher and administrator – including Dean of Students and Assistant Principal.
Gerwe has a Bachelor's Degree in Mathematics and Elementary Education from National College of Education in Chicago and a Master's Degree in Education from Xavier University.
She and her husband, Ken live in Northern Kentucky. The couple has two children, Anna and Julia.
"We are very excited to have Judy join us, and we are confident that she will build upon the strengths of the organization to take us to even higher levels," said Tony Reed, MND Board Chair on behalf of the Board and the Head of School Selection Committee.
Gerwe will be following Mr. Larry Mock MND's current Head of School, who last summer announced his plans to retire at the end of this school year.
St. Xavier community suffers another loss
Just days after the passing of former football coach Steve Rasso, the St. Xavier High School community suffered another loss with the death of former football coach Tom Ballaban on Dec. 25.
Ballaban served as head coach of the Bombers from 1953 to 1977 winning more than 140 games and three GCL championships. Ballaban also coached the Bomber basketball team for four seasons.
Ballaban, a history teacher, retired in 1998. The school hosted a wake for Ballaban on Jan. 5, 2015. The funeral Mass is scheduled for Jan. 6 at Bellarmine Chapel at Xavier University.
Roger Bacon names new head football coach
Roger Bacon High School announced Jan. 2 that Mike Blaut has been named as head varsity football coach. Blaut, a 1988 graduate of Roger Bacon, most recently served as the offensive coordinator.
After previous coaching stints at Northwest, Oak Hills and North College Hill high schools, he is excited to be head coach at his alma mater.
"Helping lead three different schools into the state playoffs as Offensive Coordinator was very fulfilling" Blaut said. "However, this is my dream job – it is a privilege to lead a program with a long history of success and excellence."
Blaut takes over a team coming off a 4-6 record and a large number of graduating seniors.
Blaut is married to Missy (Pflanz), a 1988 Roger Bacon graduate, and has two children – Jake, a junior at Roger Bacon High School and Ryan, a 7th grade student at John Paul II.
Posted January 6, 2015
Recent Around the Archdiocese posts
December 26, 2014
December 16, 2014
December 2, 2014