Top Vatican Official: Washington, NYC likely stops on papal trip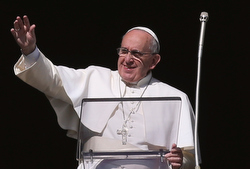 By Alan Holdren & Andrea Gagliarducci CNA/EWTN News 
VATICAN CITY — Although it's still not official, the Vatican's Secretary of State confirmed today that Pope Francis will most likely visit Washington D.C. and New York during his visit to the United States.
"I think the Pope will go to United Nations, everybody is speaking about that… but no official announcement has been delivered," Cardinal Parolin told CNA Jan. 6. Cardinal Pietro Parolin, the Vatican's Secretary of State, spoke to American journalists at the end of the dedication ceremony for a new wing of the Pontifical North American College in Rome.
He added that "of course" a papal visit to the nation's capital city of Washington, D.C. is possibly in the agenda, but he stressed that "no official confirmation has been made."
Pope Francis announced his trip to the United States on Nov. 17 in an address to members of the "Humanum Conference." During his visit, the pontiff will participate in the Sept. 22-27 World Meeting of Families in Philadelphia.
Although Cardinal Parolin hesitated to make an official confirmation, there has been speculation that the Roman Pontiff will make stops in both Washington D.C. as well as to the headquarters of the United Nations in New York while he is in the U.S.
The Holy See's permanent observer to the U.N. in New York, Archbishop Bernardito Auza, strongly hinted last fall that a visit to the United Nations would be added to his stop in Philadelphia.
Details of the Pope's participation in the Philadelphia meeting of families will likely be set either this spring or summer, and then made public together with the overall schedule of the papal voyage to the United States.
Pope Francis' visit comes after the restoration of diplomatic relations between the United States and Cuba, which was achieved thanks to the pontiff's intervention, as acknowledged by both U.S. president Barack Obama and Cuban president Raul Castro.
Asked if the normalization of Cuba – U.S. relations points toward a new "golden age" of Vatican diplomacy, Cardinal Parolin said that "the president of the United States has already thanked the Pope for the support he has given to this important step," and stressed that "Holy See diplomacy is always there, to help to build bridges."
Cardinal Parolin also mentioned that perhaps the Holy See's diplomacy "is now more active…(not only) waiting, but also proposing (solutions for peace), since there are so many conflicts."
The Vatican's Secretary of State also spoke of how there are no Americans among the new cardinals to be elevated during the Feb. 14 consistory. This, he said, must not be considered "a sign of less appreciation for any Church."
"I think the Holy Father wants to give a broader sense of the universality of the Church, giving a privilege to places where traditionally there is not so much attention by the Church," the cardinal said.
He added that "we have to change our mind a little bit, and consider that the Holy Father's criteria (in picking new cardinals) are not against anybody."
Posted January 6, 2015