Around the Archdiocese: NET retreats, Second Harvest & Ursuline Academy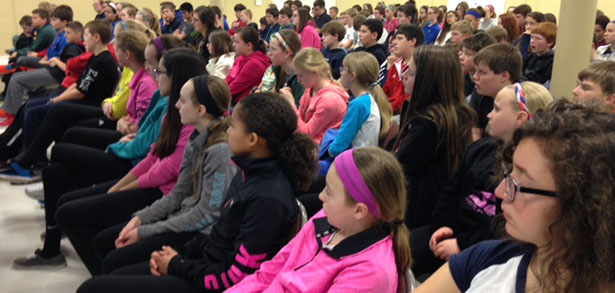 Staff Report
NET Ministries, which has put on more than 300 retreats in the Archdiocese of Cincinnati, is continuing its mission of proclaiming the Gospel. On March 26, the NET team hosted a retreat for sixth through eighth grade students of St. John's Catholic School in Colerain Township.
The students were met by 12 NET Missionaries who asked questions such as "what do you want?" And "What in your life to you wait for?" The Net team led students in an exploration of the desire for relationship with God and the dissatisfaction that comes from putting other things first.
The students have continued to lvd out the "Life in Full" retreat, incorporating it into their daily religion classes as a "30 Day Walk with Jesus."
Begun the day after, March 27, and for the next 29 religion class periods, each grade is listening to and reflecting on a student-read Gospel passage. These passages are listed on bookmarks given to students by the NET Team as an aide for growing in their relationship with Jesus.  The Scripture walk students are taking is also a positive response to Pope Francis' invitation from Evangelii Gaudium "to a renewed personal encounter with Jesus Christ…unfailingly each day."
Second Harvest hires executive director
Second Harvest Food Bank has hired Tyra Jackson, former chief operating officer of the Dayton TWCA, as its executive director.
Second Harvest, part of Catholic Charities Southwestern Ohio, provided meals to more than 4.4 million in Champaign, Clark and Logan counties last year.
""We are delighted to have Ms. Jackson join us as she brings proven strategic, operational leadership to one of our largest programs," said Ted Bergh, Catholic Charities CEO. "We admire her results-driven approach and her experience working in the faith-based nonprofit sector.  Our team and our clients will benefit."
Jackson began her career at Project Woman in 2002 as a prevention and outreach coordinator. She worked her way up through the ranks becoming the Executive Director in 2007.  She moved to the YWCA Dayton as the Chief Operating Officer in 2011. During this assignment, she served as the interim CEO and provided stability to the agency until a new CEO was hired.
A Springfield native, Jackson earned her BA from Wittenberg University, and her Master of Education from Antioch University McGregor.
Ursuline Academy student accepted to West Point
Ursuline Academy's Madilyn Kimmel, of Goshen, has been accepted to The United States Military Academy at West Point.
Kimmel was nominated by Congressman Brad Wenstrup (R-Cincinnati), who visited Ursuline Academy March 30 and presented Kimmel with her acceptance, and met with other students, school administration and Kimmel's family.
"We're all very proud of Madilyn on her acceptance into West Point," Congressman Wenstrup said. "Ohio is blessed to have people like her, willing to dedicate their lives to service of country. She represents the best of our next generation: dedicated selfless service to those around her."