Around the Archdiocese: Oct. 29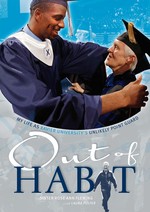 Enquirer columnist pens book about prominent nun
Sister Rose Ann Fleming, SNDden, is a well known member of the Xavier University basketball community. Since she started XU's academic advising program, every player that reached his final year of eligibility has graduated.
Now, a new book, Out of Habit; My Life as Xavier University's Unlikely Point Guard (Orange Frazer Press $29.95) tells Sister's personal journey; the story of the woman behind the impressive academic success of Xavier men's basketball. It is written with Laura Pulfer, former Cincinnati Enquirer columnist and NPR commentator. All proceeds will benefit the Sr. Rose Ann Fleming Academic Success Endowment.
Out of Habit is available for purchase on November 3 and may be pre-ordered at www.xavier.edu/outofhabit. On Monday, Nov. 24, Sister Fleming will participate in her first book signing, prior to the Xavier-Murray State game at 7 p.m. at the Cintas Center. The first 3,000 fans will receive a commemorative Sister Rose Ann Fleming bobble head doll and her "number" will be retired at halftime.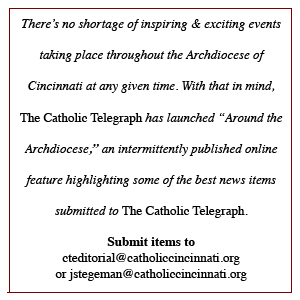 Five days remain in fall 40 Days for Life campaign
Including today, there are five more days left in the fall campaign.
Hours are still available between now and Sunday at 7 p.m. to come to the sidewalk one last time (or even the first time) during this campaign to publicly witness to the sanctity of all human life.  You can still register and sign up online at www.40daysforllife.com/cincinnati.
There are two related events to keep in mind.
Cincinnati Auxiliary Bishop Joseph Binzer will lead us in prayer for the intentions of the campaign during our last Friday evening vigil of this campaign Oct. 31 from 7-8 p.m..  All ages and denominations are welcome.  Parking is on street or at Holy Name Church, 2448 Auburn Avenue (2 blocks from Planned Parenthood).
A Closing Hour of Thanksgiving will also take place Sunday, Nov. 2 from 3-4 p.m. to thank God for the sacrifices and prayer made during the campaign. Father Cyril Whitaker, SJ, will lead the prayers and speak. A group photo will also be taken.
Annunciation to host celebration of sacred music
Annunciation parish in Clifton is planning a concert Nov. 22 for the feast day of St. Cecilia, patron saint of musicians.
The free concert begins at 7 p.m. at Annunciation Church, located at 3547 Clifton Ave. The concert will be a 45-minute performance by a small orchestra, soloists and the Annunciation choir.
A reception with light refreshments will follow. For more information, contact (513) 861-1295.
Students celebrate St. Francis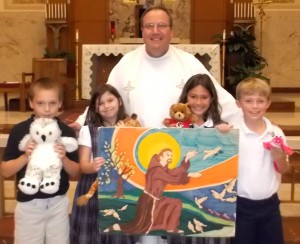 Third grade students at St. Dominic School celebrated the Oct. 4 feast day of St. Francis of Assisi in a special way.
Many parishes host pet blessings around that date, but the St. Dominic students had a "pet blessing" of their stuffed animals by Father Chris Lack. Pictured with Father Lack from left to right are Andreas Carrion, Piper Janson, Bella Tirado, and Nick Tallen.
Around the Archdiocese is compiled from press releases and other submissions sent to The Catholic Telegraph.
Posted Oct. 29, 2014