Around the Archdiocese: Thanksgiving week 2014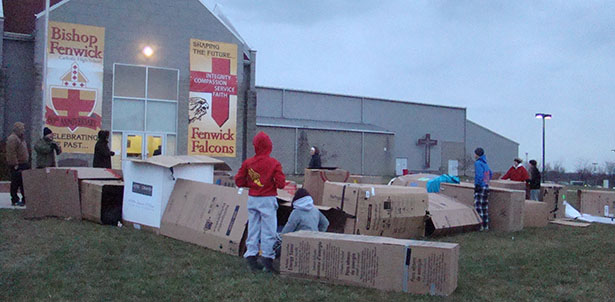 Staff Report
Below are news and notes from around the Archdiocese of Cincinnati.
Bishop Fenwick students embrace homelessness awareness, gather food
Forty students, representing all four grade levels, participated in Fenwick High School's Shantytown. "The purpose of Shantytown was to give participants both a simulation of the challenges persons facing homelessness experience and a sense of what it feels like to not have the security, comfort, convenience, and sense of belonging that a home provides," said Director of Campus Ministry, Meg Eckart. "A larger goal of Shantytown was to educate our entire Fenwick community on the causes and challenges of homelessness through the witness of our students living in solidarity with persons experiencing homelessness."
Fenwick is one of 30 high schools and universities in the Cincinnati area that hosted a Shantytown experience during the month of November, which is National Homelessness Awareness Month.
In addition, the Fenwick Student Council conducted its annual canned food drive with the goal of collecting 2,700 cans of food for the needy.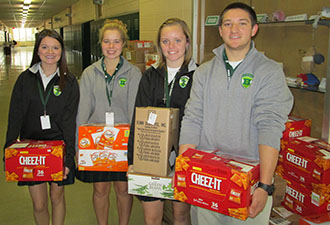 Badin High collects more than 6,000 canned goods
Badin High School students Mady Chew, Morgan Deitschel, Emily Henson and Cameron Nunn (pictured above) carry some of the more than 6,000  canned goods donated during the school's annual Canned Food Drive that concluded Nov. 18.
St. Raphael's food bank in Hamilton was the beneficiary of the Thanksgiving spirit. Badin donated an average of nearly 11.5 canned goods per student.
Seniors led the way, donating more than 17 canned items per class member.
St. Gabriel holds canned food drive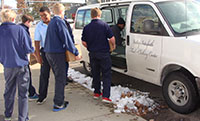 Students from St. Gabriel Consolidated School in Glendale participates in the school's annual canned food drive recently.
The long-standing tradition at the school benefits the Catholic Intervalley Faith Organization and teaches students to accept and assist in spreading the Good News of Jesus Christ.
Many schools and parishes around the Archdiocese of Cincinnati participate in canned good drives to stock local food pantries during the holiday season.
McAuley students attend IT conference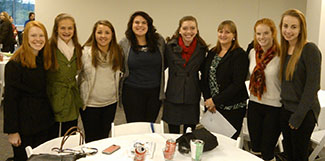 Several McAuley High School students attend the 10th Annual Women in Technology Conference presented by INTERAlliance of Greater Cincinnati on Nov. 21.
The conference included interactive sessions where students learned from academic and corporate professionals about the broad spectrum of IT career opportunities.
The students "table mentor" was McAuley alumna Jamie Papania Kissel, who works in IT for Proctor and Gamble. The conference was sponsored by a variety of universities and businesses.
Mercy student chosen for All-American Marching Band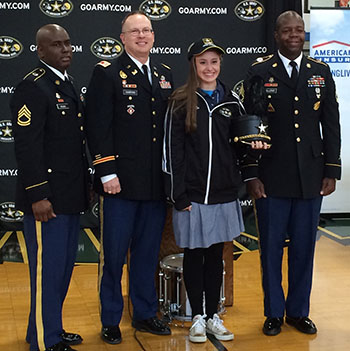 Mother of Mercy High School senior Kristen Gandenberger was selected as one of 125 students nationwide to be part of the U.S. Army All-American Marching Band. The group will perform at halftime of the All-American Bowl at the Alamodome in San Antonio, Texas Jan. 3, 2015.
While Mercy doesn't have a marching band, Gandenberger is a member of the The Pride of LaSalle Marching Band drum crops under the direction of Brian Fischer.
Students are selected bu the National Association for Music Education in cooperation with All-American Games and Drum Corps International. The honor includes an all expenses paid trip to the bowl game.
St. Xavier church downtown to host Christmas prayer service for the grieving
St. Francis Xavier Church in downtown Cincinnati will host a "Blue Christmas" prayer service for those dealing with grief during the holiday season.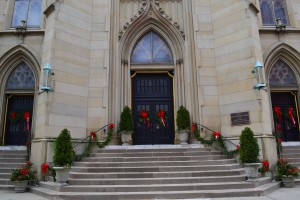 Aiming to created a "sacred space, acknowledge our feelings, know we are not alone, and place them before the Lord," the service will be Dec. 1 at 7 p.m. at the church at 607 Sycamore Street.
The service will be followed by light refreshments and fellowship, as well as a program toassist people in getting support for grief and loss during the holidays.
Around the Archdiocese is compiled from press releases and other submissions sent to The Catholic Telegraph.
Posted Nov. 24, 2014