Dayton creches to be displayed at Cathedral of St. Peter in Chains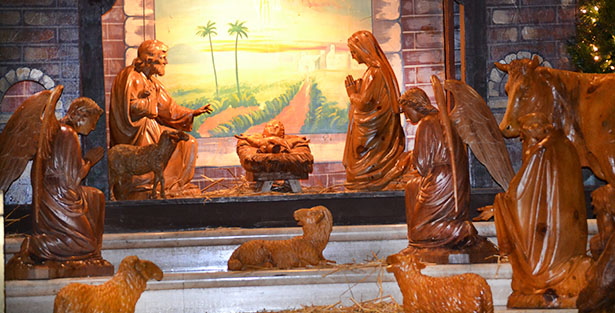 Staff Report
A popular Christmas activity in the Archdiocese of Cincinnati is the University of Dayton's annual display of 200-plus Nativity scenes. Now residents in the archdiocese's southern parts will have a chance to experience some of those creches without making the drive.
The Cathedral of St. Peter in Chains will host 25 nativities on loan from the University of Dayton from Nov. 29 to Jan. 4, 2015. The "Creche Collection" will be open to the public Monday through Saturday from noon to 4 p.m. and noon to 6 p.m. on Sundays. It can also be toured by appointment.
The display will be closed December 11, 24, 25, 31 and January 1.
The signature piece is by artist Robert Koepnick (1907-1955). Koepnick specialized in corporate, public and church sculpture and sculpted the baptismal font at the cathedral.
The Koepnick nativity will be the largest and has an angel and star that will hang above the set. Each nativity will be displayed with a 5×7 plexi stand that will contain a meditation, so visitors can read them as they view each set.
Nativities from 22 countries and made from many different materials in a variety of styles will be on display.
There is no charge for admission but donations are welcome. To schedule a tour or for more information contact the cathedral office at (513) 421-5354.
Posted Nov. 24, 2014