Asking for Help
"So what do you think you can do before our next session that would help your relationship?"
I stared blankly at our therapist. My husband and I had just spent the last hour revealing pains and sores in our marriage. She had already asked Andrew this question and now turned to me. Still raw from the conversation, I struggled to think of an answer; and if I'm being honest, I was more ready to voice what I wanted my husband to change in his behavior than to try to come up with what I needed to do.
Andrew and I celebrated 13 years of marriage this summer. Leading up to our anniversary, we didn't make plans because we weren't sure that we would be celebrating or acknowledging at all. Like other couples, we've experienced seasons rich with joy and contentment, but more recently, our relationship was characterized by tension and deep misunderstandings of ourselves and each other. We tiptoed around difficult subjects and lacked the skills necessary to handle them with grace. We wounded each other whenever we tried.
Spoiler alert: we're still married and glad to be, but not without some serious elbow grease, help from others, and openness to God's grace; which, as far as I'm concerned, is the recipe for a good marriage.
I've never had a clearer understanding of how much I need a thriving relationship with Jesus than in these days of healing with my husband. Made in the image of God, it's my job to imitate Him and in order to do that, I have to know intimately Who He is.
In our struggle, the best course of action was surrender to God. I needed to surrender how I thought Andrew should be living. We both needed to surrender our resentments, criticisms and – most of all – the idea that we could fix our own problems. My mind was so clouded by our stress that I failed to recall that Jesus was the answer to every pain and uncertainty.
So we prayed the Surrender Novena – both together and individually. I mentioned it here a few months ago and reiterate everything I said then to underscore the novena's transformative effects. Each day's prayer revealed the same message in ways that penetrated my heart: Jesus is Lord of every circumstance – including those in the past.
"I muse on what Your hand has wrought" (Ps. 143:5) This verse has steadily invited me to look back at how God joined my husband and me, as well as the ways He has upheld us over the last 13 years. Andrew has told me countless times, "God has not abandoned us so far, and He's not going to start now." The same God Who brought us together and called us to marriage is the same God Who will sustain us and Who holds our future.
Overcome with burdens and stress, it's easy for anyone to withdraw from help; but God heals through communion with others, and one of the best connections Andrew and I have is with our therapist. Though society is letting go of the stigma of going to counseling, hesitation lingers. I've learned, however, that asking for help is a winning strategy. Sometimes you need an unbiased third party to help clear the air, fix the cracks in the foundation and plan for a loving future. Our counselor is a tremendous gift to us, and together, we're returning to the truth and beauty of our sacrament.
I read the other day that the pursuit of happiness doesn't yield holiness, but the pursuit of holiness yields both. In the time we've been recovering our marriage, what has buoyed our hearts and efforts is closeness to Jesus. We've been blessed by the words of Christ and the wisdom of others to keep us loving and level-headed. Every marriage endures trials, but with Jesus and willingness, will experience resurrection.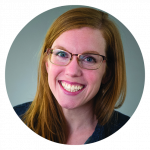 Kaite Sciba is a national speaker and Catholic Press Award- winning columnist. Katie and her husband, Andrew, have been married for 13 years and are blessed with six children.
This article appeared in the August 2021 edition of The Catholic Telegraph Magazine. For your complimentary subscription, click here.