At audience, pope appeals for peace in Nigeria, talks about prayer
June 20, 2012
Catholic News Service
VATICAN CITY — Expressing his "deep concern" about terrorist violence in Nigeria, Pope Benedict XVI urged an end to "the shedding of the blood of so many innocent people."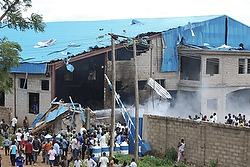 Speaking at the end of his weekly general audience June 20, the pope said the terrorist attacks are continuing and are "directed mostly against Christian faithful."
For months, bombs have exploded at Christian churches in various cities; the attacks were carried out on Sunday mornings when the churches were full. Forty-five people were reported killed June 17 after four churches in Zaria and Kaduna were bombed, and mobs carried out reprisal attacks on Muslims.
The bombings were widely believed to be the work of Boko Haram, an Islamic terrorist group.
At his general audience, Pope Benedict expressed his hope that all Nigerians would work together, "not following the path of vengeance," but cooperating to build a "peaceful and reconciled society where the right to freely profess one's faith is fully safeguarded."
Among the groups present at the audience was a 37-member delegation from the Wounded Warrior Project, which helps U.S. military wounded in action. When the group's presence was announced in the Vatican audience hall, thousands of pilgrims gave them a standing ovation.
In his main audience talk, the pope continued his series of reflections on prayer in the New Testament letters of St. Paul, focusing on the opening hymn of praise from the Letter to the Ephesians.
Pope Benedict said it is normal, and natural, that prayer usually involves asking God's assistance "because we need help, we need other people, we need God." Even the Lord's Prayer, which Jesus taught the disciples, contains a list of requests, he said.
"But our prayer shouldn't be exclusively that," the pope said. "We have reasons to give thanks. If we are a bit attentive, we see that we receive so many good things from God. God is so good to us that it is necessary to say, 'Thank you.'"
The beauty of creation is an obvious reason to praise God, he said. But the biggest motive flows from the key mystery of our faith: "God loves us and has loved us from the beginning, from all eternity."
In prayer, the pope said, Christians learn "to be with God."
"Prayer, as a way of getting used to being with God, creates men and women driven not by selfishness, a desire to possess or a thirst for power, but by selflessness, a desire to love and a thirst for service. In other words, to be people animated by God, which is the only way to bring light to the darkness of the world," he said.