Athenaeum Alumni Reunion scheduled for Sept. 26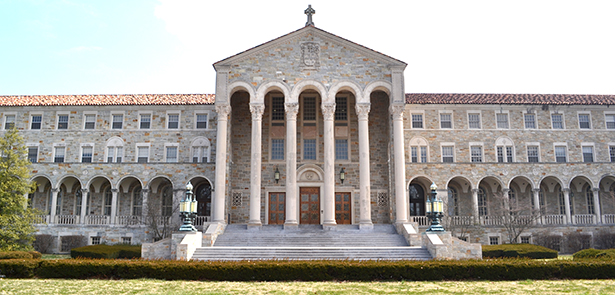 Staff Report
The 2014 Athenaeum Alumni Reunion will take place Friday, Sept. 26 at the Athenaeum of Ohio in Mount Washington.
Cost of the event is $30 for singles and $50 for couples. Organize groups of eight and reserve a table for $200. It includes dinner, two drink tickets and surprises.
The event will be centered in the Marian Courtyard and will feature tours, a social hour and a dinner with barbecued ribs and boneless chicken.
Cincinnati Archbishop Dennis M. Schnurr will celebrate Mass and the Stormy Weather Jazz Quintet will provide soft classic jazz for listening pleasure during the social and dinner.
Alumni are invited to tour the Athenaeum at their own pace and seminarians will greet them at specific places of interest including the Eugene H. Maly Memorial Library and its rare book collection; the recently renovated Immaculate Conception Chapel; the St. Gregory Chapel and its stained glass windows and mosaics, and at a seminarian suite.
The reunion is organized by the Athenaeum of Ohio Alumni Executive Committee with Deacon Bill Staun serving as event chairperson. Committee member Kim Lukens is coordinating door prizes.
To make a reservation, please e-mail [email protected] or call 513-233-6113.
Event Schedule
4 p.m. – Registration opens
4-5:30 p.m. – Tour stops are open
5:30 p.m. – Mass in the Chapel of St. Gregory the Great
6:15 -7 p.m. – Social in the Marian Courtyard
7 p.m,. – Dinner in the Marian Courtyard
9 p.m. – Farewell
In the event of rain, the reunion will move to the refectory.
Posted Aug. 13, 2014