Athenaeum gets $10,000 science grant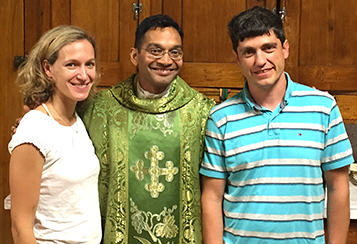 Staff Report
The Athenaeum of Ohio/Mount St. Mary's Seminary of the West has been awarded a $10,000 grant from the John Templeton Foundation via John Carroll University for the development and delivery of a course in religion and science.
The grant is for a course titled, "Only Wonder Comprehends" to be taught be Marco Caggioni, Ph.D., Father Earl K. Fernandes, S.T.D., and Simona Ferioli, M.D. The Athenaeum is among 15 recipients of such grants, handed out after a national competition as part of John Carroll University's Science in Seminaries Initiative.
"Seminarians today are often not well versed in the sciences, and we live in a world that is increasingly scientific in use of technology and medical research," said Athenaeum Dean Father Earl Fernandes in a press release on the Athenaeum website. "This grant will allow us to prepare our seminarians and other students to address today's issues and dialogue with the scientific community."
Father Fernandes, who has studied biology in medical school prior to entering the seminary, noted the importance of scientific knowledge for priests today.
"When I teach medical ethics, I have to engage questions regarding science whether involving embryonic stem cell or issues regarding brain death," he said. "We must be informed and ready to respond."
For more information, visit the Athenaeum website HERE.
Posted Sept. 15, 2015