Diverse Dayton parish finds unity through faith, tenacity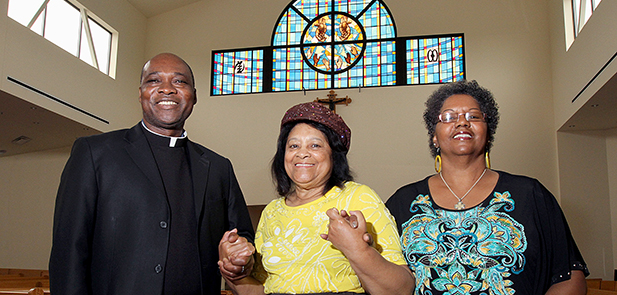 By Walt Schafer
For The Catholic Telegraph
A little more than 10 years ago, St. Benedict the Moor Parish, serving West Dayton, was built. It is one of only five new parish churches nationwide built from ground up with the money, elbow grease and tenacity of a largely African-American community.
It was born a few years after the consolidation of three parishes into one – St. John and Resurrection, which had already merged – and St. James, another West Dayton parish.
"In 2005, the announcement was made (the archdiocese) was combining parishes into St. Benedict… (and) that we were going into one building; that we were building a new church." said Congregation of the Holy Spirit Father Francis Tandoh, the pastor of St. Benedict and pastor of Resurrection at the time the project was announced.
"People were excited when we made the announcement — both sides were excited. Resurrection  had been planning to build a church. They were using the gymnasium but the church never got  off the ground so it was an exciting moment for the people," Father Tandoh said.
"The downside was that some people were also complaining that this would not become a reality because they had already given money to build a new church that never came about at Resurrection. So, the idea was that maybe this would never happen. There were mixed feelings regarding that. I kept being asked to prove we are actually going to do this."
At St. James feelings were mixed, too.
"I really did not want to leave St. James," said Rita Ellicott, then a former St. James parishioner who welcomed the idea of building a new parish from scratch. "Coming together to build a new church?  I was for that completely.
"At St. James, we had been in a drive where parishioners gave to improve the church. Then the archdiocese said a church would have to close. Everyone had mixed feelings. My feeling was Resurrection didn't want their church to close. They actually had a school there with St. James. So, when they said come together and build your own, I was for that all the way," Ellicott said.
Fellow St. Benedict parishioner, Juanita Newell, said the very "thought of us in a new church — and black people going to have a new church — brought us all together. It was unifying."
Fast forward a decade since St. Benedict the Moor was created — a comfortable parish church seating 1,050 with a motif focusing on the African American, but also on the diversity of a parish that today welcomes Hispanics, Latinos, Caucasians, and a variety of other ethnic groups. The parish draws about 250 to Mass each week.
Today St. Benedict the Moor parishioners and pastor talk of success.
"It's a success because we started from these different parishes, from scratch, and we all came together as a unified congregation," Newell said. "It was really a love of our church, St. Benedict. I was at St. John. Now I have friends from St. James from Resurrection and St. John.
Ellicott agreed: "This is a success story because when we look at our Stations of the Cross, those are our Stations of the Cross. At St. James, you saw people's names from the founding families who we never knew. These are all new windows. This is our place. At St. James, all of stained-glass windows were donated by families who don't go St. James Church anymore and they were all white.
"When African Americans went into the church, eventually those white families left. So to build a church where our children, our grandchildren can see the past is huge. They can look and say these widows were donated by our ancestors. That's a wonderful feeling. That's a great success story when everyone called it 'Visions of Victory' and put out our money to show we actually founded this church. We paid for this church. It's our church."
And it is. The church, which cost more than $5 million to construct, is paid off. The mortgage has been burned. Money came from the generosity of parishioners and through grants, Father Tandoh said.
"In the beginning, it wasn't easy to create success," said Father Tandoh, a native of Ghana. "As I look back, I told parishioners what it would cost for the building; showed them what was needed… When the money was not there, I would say, 'I can't do anything'… When we finally broke ground everybody knew it was going to be a reality. That was a turning point. We got people working together and things started coming together."
Today, parishioners no longer sit in groups representing their former parishes as they did before. They mingle.
"You had parishioners from Resurrection and parishioners from St. James separated. They did sit together," Ellicott said.  "Then, gradually, they came to the point where we were all over the church intermingling. We had to eventually say this is not St. James or Resurrection. This is St. Benedict. Then everyone started saying St. Benedict the Moor and that's how it is today."
The next step is evangelization.
"We have lost a lot of parishioners through death. That has been a very instrumental issue. We're an older parish. We have a lot of sick and shut in. We have a lot of elderly," Ellicott said. Others can't get to St. Benedict because of a lack of public transportation on Sundays and still others attend parishes with schools
"So," said Father Tandoh, "we want to go around and meet people who are living in the community to grow our church."
This story originally appeared in the September 2015 print edition of The Catholic Telegraph.