Attending Elder a 'dream come true" for grad Florian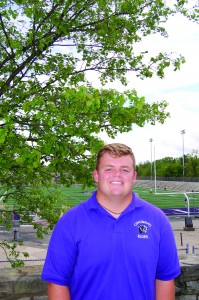 Sam Florian attended football games at Elder High School, from the time he was in pre-school. He recently graduated from Elder, after four years of playing football there himself, and calls the experience at the school "a dream come true."
Florian came to Elder via Our Lady of Victory Parish in Delhi. He quickly embraced the variety of activities offered at Elder, but it was a personal tragedy toward the end of his freshman year that led to an even deeper appreciation of his high school experience. His father, Michael, passed away on May 7, 2013, after a five-year battle with cancer.
"I remember the guidance department taking a special interest in me and my family," he recalled. "Everyone was so supportive and concerned with how my mom (Lisa) and our family was doing. I was so grateful for that. It helped me realize how God works through other people."
Taking that lesson in faith to heart, Florian became involved in community service at Elder, tutoring second graders at both Holy Family and Carson Elementary schools. He was also a member of the Key Club, helping fellow students with neighborhood clean up projects.
"That was pretty rewarding," Florian said, "being with the other guys, doing something that really made an impact and affected people in a positive way."
In addition to football, Florian also participated in wrestling, volleyball and track at Elder, and was a member of the Leadership and Initiative Club and Glee Club. Outside of school, he volunteers in the gift shop at Good Samaritan Hospital and umpires Little League Baseball during the summer months.
"Sam is the type of person who exhibits good character and morals in life," said Maura Gettler, director of admissions and marketing at Elder. "He is compassionate about helping others and doing what is right to help better the people he interacts with on a daily basis."
That sense of compassion helped influence Florian's career choice. He plans to attend the University of Cincinnati and major in nursing, with hopes to one day work as a nurse practitioner or anesthetist.
"I remember how critical the nurses were to my dad's care," he explained. "They took so much interest in him, in who he was. I want to get to know people in that same way and make a difference in their lives."
Florian is confident both academically and spiritually as he looks to the future.  "I feel Elder has set me on a good path," he said.
This story first appeared in the June 2016 print edition of The Catholic Telegraph.