McNicholas grad 'sees God' in service to others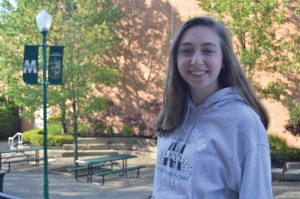 Service to others is important to Emma Kapp, a recent graduate of McNicholas High School.
"I see the face of God in others," she said. "I learn from their faith and genuine kindness."
Kapp, the daughter of Shannon and Jim, attended grade school at Guardian Angels (GA) in Mt. Washington, and said she specifically chose McNicholas because of the opportunities for community service offered there.
"I wanted to be around like minded people and have the chance to grow in my faith," she explained. Her younger brother, Sean, is also a student at McNicholas, and sister, Moira, attends GA.
During her time at McNicholas, Kapp was involved in a variety of activities, such as the liturgy choir and serving as a eucharistic minister, Student Council, president of the spirit club and International Thespian Society, and member of the student philanthropy and service clubs. She was also a member of the Science National Honor Society, Spanish Honor Society, and National Honor Society. In addition, she completed 180 hours of community service, including a six-day trip to the Glenmary Farm, working on home repairs for those in need and visiting local residents in nursing homes.
"It brought the significance of what I've learned about social justice home to me, and helping me put my faith into practice," Kapp said of the trip. "Being around the people helped me experience God through their faith. I loved being there."
Another meaningful experience for her was serving as a Kairos leader, working with the juniors to "help them recognize the presence of God in their lives and how much the McNicholas community loves them."
"Emma is very mature in her faith, a faith that feeds her prayer life, but especially her desire to serve the greater community," said Sam Roflow, theology department chair at McNicholas.
Kapp plans to attend the University of Dayton in the fall and major in communications, with a minor in medical humanities. She hopes to one day work in a hospital setting doing grant writing and handling general communications.
"I think my time at McNicholas definitely solidified my foundation in my faith, which I hope to build on in college," she said. "I also gained the tools that I'll need to help me succeed academically and had many experiences that will help me later in life."
This story first appeared in the June 2016 print edition of The Catholic Telegraph. 
*Correction: The version of this story appearing in the June 2016 print edition mistakenly identified Emma Kapp as Shannon Kapp.