Badin's Waggoner named National Merit semifinalist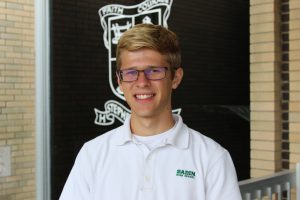 Jacob Waggoner could not stop smiling, and why not?
The Badin High School senior has been named a National Merit Scholarship semifinalist, one of less than 1 percent of American high school students to earn that prestigious designation.
"I'm excited," said Waggoner, the son of Brad and Paula Waggoner of Hamilton and a graduate of St. Joseph School. "This was definitely a goal of mine and I'm glad that it came to fulfillment."
Waggoner was among 1.6 million juniors who took the Preliminary SAT/National Merit Scholarship Qualifying Test in the fall of 2016 in order to be eligible for the 2018 National Merit Scholarship program.
There are approximately 16,000 National Merit Scholarship semifinalists throughout the country. Some 90 percent of those will be named finalists in the spring, and the National Merit Scholarship Corporation will award some 7,500 scholarships worth more than $32 million.
"That's a great accomplishment for Jacob and we're very proud of his success," Badin High Principal Brian Pendergest said. "Jacob is a well-rounded young man who values education and it certainly shows in his performance."
Waggoner runs cross country and track and went to state with Badin's cross country team as a junior.
"You can't just study the books – you have to live your education," Waggoner said.
Waggoner plans to study economics or business in college, perhaps MIS (Management Information Systems). He said his college list is changing all the time, but top choices include Duke, the University of Alabama and the University of Arizona.
What does it take to be a National Merit semifinalist?
"A lot of hard work," Waggoner said. "You've got to make the time commitment. It's taken a lot of late nights to study and understand what I'm doing in school."
Waggoner has a broad range of interests at Badin, from math classes by Mr. Mark Merz … to technology classes from Mr. Dave Gretz that put him "on the front edge" … to marketing education classes from Mr. Joe DeAngelo and Mr. Tim McCabe "that helped me find my passion for business."
"I'm really glad that I got involved in Badin," Waggoner said. "I think that's an important message for anyone to help them succeed in school."
Waggoner is the fifth National Merit semifinalist in the last three years at Badin High School. The school has had seven National Merit "Commended" students in that time, and hopes to add to that total this year as well. That announcement will come next month.
The National Merit Scholarship program was established in 1955 with the goal of "honoring the nation's scholastic champions and encouraging the pursuit of academic excellence."