Before he was a saint, John Paul II visited Cincinnati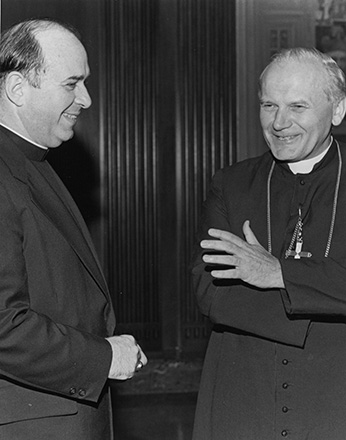 Staff Report
The Catholic Telegraph 
Before he was a saint, then-Cardinal Karol Wojtyla of Kracow, Poland, visited Joseph L. Bernadin  Sept. 2, 1976, while the latter was Archbishop of Cincinnati.
Cardinal Wojtyla would become Pope John Paul II. He instrumental in the sweeping changes that came with the fall of the Berlin Wall and the lifting of the Iron Curtain from his native Poland. Pope Francis canonized John Paul II April 27 along with Pope John XXIII, instigator of the Vatican II Ecumenical Council.
Archbishop Bernardin was at the time the president of the National Conference of Catholic Bishops (now the U.S. Conference of Catholic Bishops.) Cardinal Wojtyla visited Archbishop Bernardin after the archbishop visited Poland in 1975 at the invitation of the Polish church hierarchy.
At the time, one of the most noted of theologians, Cardinal Wojtyla was one of 18 Polish bishops visiting the United States for the Eucharistic Congress. While in the United States, Cardinal Wojtyla lectured at Catholic University of America, Harvard and the University of California at Los Angeles.
As Karol Wojtyla/St. John Paul II is now officially recognized as a saint, certain object associated with him could now be considered relics.
Those include the bed he slept in when he stayed at the Cathedral of St. Peter in Chains and the chalice and paten he gave Archbishop Dennis Schnurr as a gift for his work organizing the World Youth Day in Denver in 1993.
That chalice and paten are currently on loan an on display at the Athenaeum of Ohio.
This story originally appeared in the May 2014 print edition of The Catholic Telegraph.