Being part of 'digital continent' helps share God's love, says bishop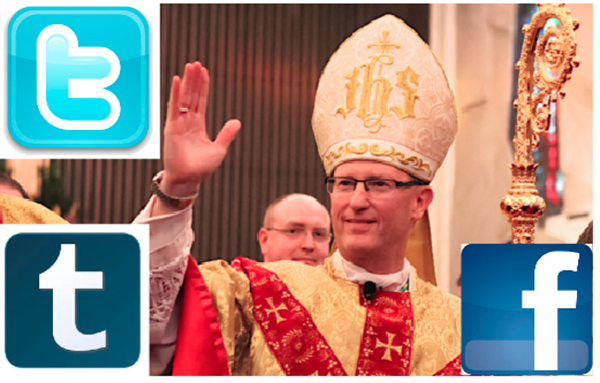 By Catholic News Service
LINCOLN, Neb. — Lincoln Bishop James D. Conley told Catholics in his diocese that just as he had hoped to do after his installation last November, he has traveled around the 23,800-square-mile diocese, "spending time with you and your families, getting to know you and your communities."
Follow Local Catholic sources on social media The Catholic Telegraph on Facebook The Catholic Telegraph on Twitter  The Archdiocese of Cincinnati on Facebook The Archdiocese of Cincinnati on Twitter 
He also has spent "time in prayer and fraternity among the priests, religious and families of the diocese" and the visits have confirmed what he thought when he became Lincoln's ninth bishop — that "there is good news in the diocese. … And the Lord is calling us to share it."
To that end, he has launched a new diocesan social media apostolate to especially "engage young people more actively" in the diocese and "proclaim the Gospel to those who might not hear it in a church or in their families."
"We'll start simply, by being present in the 'digital continent' to witness to God's love," Bishop Conley said in his weekly column in the Sept. 13 issue of the Southern Nebraska Register, Lincoln's diocesan paper.
"Over time, we'll find ways to provide presentations of the Gospel in multimedia formats, and to facilitate real dialogue, discussion and an invitation to the Christian community," he said.
"In the months and years to come, together we'll find new ways to bring the Gospel to the 'fringes of society,'" he added. "I am eager to discuss with the Catholics of our diocese how we can fulfill our missionary vocation. I am eager to find new ways to share the good news about what God has done for us in Lincoln."
Bishop Conley has his own Facebook page, www.facebook.com/bishopjamesconley and Twitter account, and as of Sept. 14 the diocese has a Facebook page and also is on Tumblr, http://dioceseoflincoln.tumblr.com.
During World Youth Day, he said, Pope Francis told participants to "be unafraid to go and to bring Christ into every area of life, to the fringes of society, even to those who seem farthest away, most indifferent."
"We're called, each one of us to be missionaries," Bishop Conley said. "And we become missionaries by sharing the good news of what God has done for us — by joyfully proclaiming how the Lord has transformed our lives. How he has set us free. We become missionaries when we attest everywhere to the transforming power of Jesus Christ."
Last year, Bishop Conley, who had been a Denver auxiliary bishop since 2008, succeeded Bishop Fabian W. Bruskewitz, who headed the Lincoln Diocese for 20 years.