Big Changes Coming to The Catholic Telegraph
The Catholic Telegraph has a long history in the Archdiocese of Cincinnati, and even more broadly as one of the first Catholic newspapers in the U.S. Interestingly, it was established in 1831 by Bishop Fenwick, only to be placed on a short break the following year amidst another pandemic: cholera outbreak.
It's easy to read a sentence like that about history, brush it off and keep moving. But living through a pandemic changes our perspective – allowing us to empathize with past Catholics. It also forces us to shift our focus onto the things that are most important in our lives; makes us realize, perhaps, how much attending Mass and connecting with our faith and fellow Catholics has been central to who we are.
It seems fitting, in a way, that history is now coming full circle as The Catholic Telegraph undergoes a major reinvention during the current coronavirus outbreak.
The Catholic Telegraph has undergone a number of changes over its nearly 200-year history – all done to best serve the Catholic faithful of the time. For a while now, The Catholic Telegraph has been a monthly newspaper. With the emergence of 24 hour news channels and the Internet, The Catholic Telegraph ceased to be a source for immediate Catholic news. Instead, it has shifted to reporting on Catholic events after the fact, sharing letters from the archbishop, and answering questions about the faith. The Catholic Telegraph's purpose has evolved, too, and it now serves as a means to highlight the faithful of Western and Southwestern Ohio and acts as an evangelization tool.
While I've embraced that mission over the past 10 months as editor, the next step in truly embracing The Catholic Telegraph as a means for evangelization is to move to a more visually striking format – one that is less disposable and more attractive to all ages.
After nearly a year of research, planning, design and feedback, we will officially launch The Catholic Telegraph Magazine in June, ending the newspaper format. In our new magazine, you will see a fresh new layout, designed to enhance the goodness, beauty and truth of the Catholic faith. There will be more practical resources for families, more guest writers and beautiful imagery.
What will remain? All of our columnists who currently write for the newspaper will continue to write for the the magazine. Our outstanding lineup of feature writers will also remain and continue to cover stories that radiate Christ from all areas of Western and Southwestern Ohio.
In a time where our sense of normalcy has been ripped from us, our focus has shifted to how we can continue to connect with our Catholic faith from home, to be the primary teachers of our faith to our children and to foster our faith inside our own domestic churches. The Catholic Telegraph is one of the only faith tools produced by the Archdiocese of Cincinnati that is delivered directly into the homes of the Catholic faithful. And while we could never have anticipated that the planned June magazine launch would coincide with an international pandemic, I'm grateful that we can create a beautiful and enjoyable touch point with the Catholic Church for you to enjoy from home.
This last issue of the newspaper format has changed drastically from our original plans. Our writers sought out stories of beauty and hope amidst the coronavirus crisis, and our columnists rewrote their articles to help you stay informed during this unprecedented time. To that end, I hope that this issue of The Catholic Telegraph inspires hope in the Lord.
"The God of all grace who called you to His eternal glory through Christ will Himself restore, confirm, strengthen and establish you after you have suffered a little. To Him be dominion forever. Amen." 1 Peter 5:10-11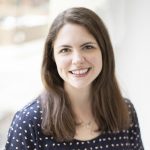 Jessica Rinaudo is the editor of The Catholic Telegraph. Contact her at [email protected].