Birthright of Greater Cincinnati continues to help women with pregnancy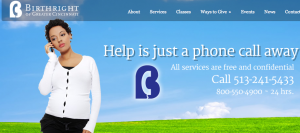 On a recent Wednesday morning, a distraught woman arrived at the office of Birthright of Greater Cincinnati. After a rough start to the day that included a broken down car and missing credit card, the mother of five-month old twin boys found support and advice in the calming presence of Margie Frommeyer, board chairperson, and Kathy Benson, who will begin serving as Birthright's program coordinator effective Jan. 1. A longtime Birthright client, the women left with a smile on her face and baby supplies in her arms.
"We want our ladies to feel comfortable here, to trust us, to provide a warm and loving atmosphere," Frommeyer said. Founded locally in 1971, Birthright is an international, interdenominational, volunteer organization dedicated to assisting women with their pregnancies. Birthright offers free pregnancy tests, referrals for medical care and counseling, maternity and infant clothing, support groups, childbirth and parenting classes. All services are free and confidential.
Among their clients are women who are considering abortion. Benson said they often ask if they'll regret the decision. "I tell them the statistics show 'yes,'" she explained, "and that they'll regret it for the rest of their lives. I remind them that children are a blessing and will make them happy."
"Our clients are really struggling sometimes," she added. "I grew up in foster homes, so I can really empathize with them. I enjoy interacting with them and doing what I can to help them along."
"Kathy does a great job working with the women," said Frommeyer, who has two grandchildren who were earmarked for abortion before their birthmothers were convinced to put the babies up for adoption. "We dearly love them," she said. "I always tell our clients that adoption is a wonderful alternative to abortion.
One of the most rewarding aspects of their ministry, said Frommeyer and Benson is when their clients return to visit, bringing their little ones with them. "It means so much to us to see that the mothers and babies are doing well," Frommeyer said. "They are often so grateful for our help, that they wash the baby clothes we've given them and return them for others to use. It's their way of giving back."
Birthright is currently working to secure funding to add a component to their childbirth classes that addresses child abuse, she added, noting concerns about increased incidents of shaken baby syndrome and abuse. "My thought is that while these parents may love their children, there is a lot of anger there, perhaps because they grew up in a home where there was anger," Frommeyer said. "This is something we can do to help before the baby even arrives and hopefully prevent incidents of abuse.
The organization currently offers free childbirth preparation classes in six week sessions at Good Samaritan Hospital for single mothers or couples who can't afford other programs.
Birthright also has other plans for future growth and "we're looking forward to the future, " Frommeyer said. "We're very thankful for our faithful donors. Their help is tremendous."
For more information about Birthright, visit http://www.birthrightcincinnati.org/.