Bishop Binzer presides at Lehman Catholic May Crowning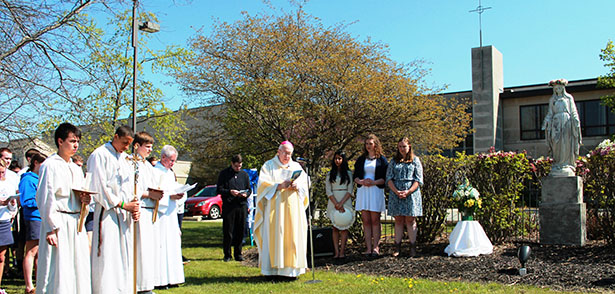 Report
The month of May in the Catholic Church is traditionally a time to honor Mary, the Mother of God. Catholic students across the archdiocese often participate in May Crowning ceremonies, wherein a crown of flowers is placed on the head of a Marian statue.
Students at Lehman Catholic High School participated in a May Crowning on Friday, May 1 with Auxiliary Bishop of Cincinnati Joseph R. Binzer celebrating Mass.
Senior Kaitlin Gillman was chosen by her classmates to lay a wreath of flowers on the head of the Blessed Virgin statue that stands on the school's front lawn. Her attendants were seniors Maria Pannapara and Brooke Jones.  Gillman is the daughter of Kevin and Kathy Gillman of Sidney.  Pannapara is the daughter of John and Teny Pannapara of Troy.  Jones is the daughter of Howie and Kathy Jones of Piqua.
During the crowning ceremony, Lehman students and staff recited several prayers including the "Litany of the Blessed Virgin Mary."
The custom of crowning the statue of Our Lady or laying flowers at its base began in Italy in the 1750's.  The practice quickly spread across Europe and was often done on May 31, the feast day of the Queenship of Mary.
In the United States, May Crownings were especially popular in the 1950's and were often big events on the calendars of Catholic Schools.  After the Second Vatican Council of the Catholic Church in the late 1950s, the practice was discouraged for a time because it was thought that too much attention was being given to Mary and should be directed to Jesus.
In the 1970's, under Pope John Paul II, there was a resurgence of Marian devotion in the Catholic Church, allowing May Crowning to again become a popular custom.  Lehman Catholic has been having an annual May Crowning for over 30 years.
The information contained in this story was submitted by Lehman Catholic High School.
Posted May 4, 2015