Bishop Coyne of Indianapolis picked to head Vermont diocese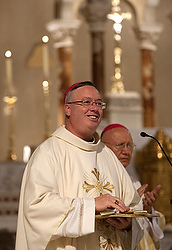 CNA/EWTN News
Auxiliary Bishop Christopher J. Coyne of Indianapolis has been chosen by Pope Francis to be the next bishop of Burlington, Vermont, announced the Vatican Dec. 22.
In a Dec. 22 statement, Bishop Coyne voiced joy and thanked the Holy Father for his trust.
He told the people of Burlington: "I come to you ready to commit myself completely to the work of announcing the good news of Jesus Christ: He who is 'the way, the truth, and the life.'"
Bishop Coyne thanked the clergy, laity and religious of Indianapolis, reflecting on the archdiocese as "a vibrant and growing family, a place where people truly live their faith and are fiercely proud to bear the name Catholic."
Describing himself as "a Bostonian with a 'funny accent' and a 'strange' devotion to Dunkin Donuts and the New England Patriots," he said he is pleased that he will be returning to New England, closer to his family.
Stressing the importance of strong and health parishes, Bishop Coyne noted his work in Indianapolis to help assess parish life – examining what was being done well and what could be improved.
"A healthy parish is a busy place: busy about social outreach, busy about worship, busy about education, but most especially, busy about announcing Jesus and His work – the 'Good News' that heals our brokenness."
Also emphasizing the New Evangelization, he drew attention to the words of Pope Francis: "We must restore hope to young people, help the old, be open to the future, spread love. Be poor among the poor. We need to include the excluded and preach peace."
"I come with no pre-established plans, or any agenda other than to serve my brothers and sisters as a faithful disciple and believer in Jesus Christ as my Lord and Savior in the family of the Catholic Church," the bishop said.
He voiced his intention to get to know the diocese by listening to its people and visiting its parishes.
"In addition, it is my intention to foster a healthy and strong relationship with the civil authorities of our state and my brothers and sisters in the ecumenical and inter-faith communities," he said. "I look forward to meeting Governor Shumlin tomorrow morning and I plan to celebrate Evening Prayer the night before my installation with as many of the leaders of our ecumenical and inter-faith partners as wish to attend."
Bishop Coyne concluded his statement by asking for prayers and offering wishes for a Merry Christmas.
Born June 17, 1958 in Woburn, Massachusetts, Bishop Coyne studied in both Massachusetts and Rome. He was ordained a priest of the Archdiocese of Boston in 1986.
His roles in Boston included pastor at several parishes, parochial vicar, seminary faculty and archdiocesan spokesman.
Bishop Coyne was ordained as auxiliary bishop of Indianapolis on March 2, 2011. He served as apostolic administrator for the archdiocese from 2011-2012. He is currently chairman-elect of the U.S. bishops' communications committee.
The Diocese of Burlington includes some 9,000 square miles in Vermont and is home to 117,000 Catholics, about 19 percent of the population, according to the U.S. bishops' conference. The diocese has been vacant since its previous bishop was named head of Rochester, N.Y., in November 2014.
Bishop Coyne will be installed as Bishop of Burlington on Jan. 29.
Posted Dec. 22, 2014