Creches on public property part of free exercise of faith, says lawyer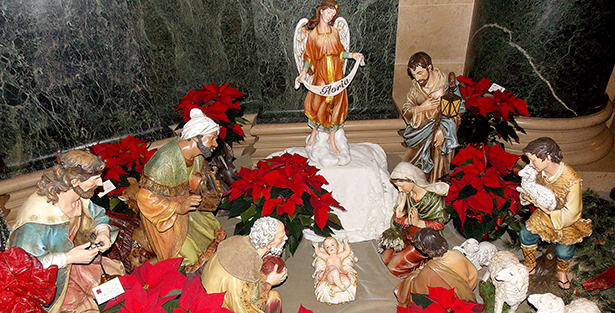 By Mary C. Uhler Catholic News Service 
MADISON, Wis. — This year a group of families from the Diocese of Madison decided to sponsor a Nativity display at the Wisconsin Capitol, and it turns out it's one of just a handful of creches on state capitol grounds around the country.
"For the thousands of folks that will visit the Capitol with their children and grandchildren, the Nativity will remind everyone that Jesus is the reason for this special season," said Geralyn Kettermann of St. Joseph Parish in Edgerton in a letter published Nov. 27 in the Catholic Herald, Madison's diocesan newspaper.
She enlisted the help of others to support the display with donations for fresh poinsettias, pro-life materials and baskets of candy canes.
The response was positive, and the display was put up Dec. 7 at the Capitol, which is in Madison. The permit allows the display to be there for a month.
It turns out, too, that having a Nativity scene at a state Capitol is pretty unusual. In fact, Wisconsin is one of only nine state capitols with a Nativity display.
Five of the displays are there because of the work of the Chicago-based Thomas More Society, a national public interest law firm. As experts on public Nativity displays, the society's attorneys have settled legal challenges for private groups sponsoring Christmas manger scenes for 30 years.
Christmas 2014 marks the eighth year that statues of Mary, Joseph, and the baby Jesus have resided in a small stable at the Illinois Capitol. The Thomas More Society also has helped get permits for Nativity scenes to be displayed in state capitols in Florida, Georgia, Rhode Island and Texas and on the governor's mansion lawn in Oklahoma.
"These Nativity displays represent classic free speech and the free exercise of faith by private citizens in the public square," said Tom Brejcha, the law firm's president and chief counsel.
Most Americans agree that holiday displays on public property are OK. A new Pew Research Center survey found that 44 percent of Americans say that Christian symbols — like the Nativity scene — should be allowed on government property, even if they are not accompanied by symbols from other religions.
In addition, 28 percent said that such symbols should be permitted if they are accompanied by symbols from other religions. Only 20 percent of those surveyed said that there should be no religious displays on government property.
– – –
Uhler is editor of the Catholic Herald, newspaper of the Diocese of Madison.
Posted Dec. 23, 2014