BISHOP LEIBOLD RECEIVES OHIO GOVERNOR'S THOMAS EDISON AWARDS FOR EXCELLENCE IN STEM
Only elementary school in the Montgomery County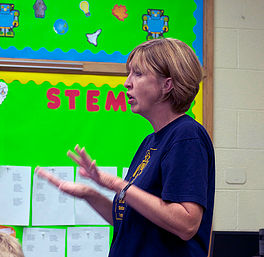 Dayton, September 10, 2017 – Bishop Leibold School has received exciting news that the school has been selected by the Ohio Academy of Science to receive the Governor's Thomas Edison Awards for Excellence in STEM Education and Student Research for the seventh year in a row ! "These schools and teachers push the boundaries of the traditional classroom by advising and mentoring student originated research and other hands-on experiences", said Michael E. Woytek, the Academy's CEO.
Bishop Leibold School is:
● One of just 58 elementary and high schools statewide to receive the award
● The only public or private elementary school in Montgomery County to receive the award
● One of two Catholic elementary schools (among 90) in the Archdiocese of Cincinnati to receive the award
Some highlights surrounding the Bishop Leibold School STEM program based on the award criteria include:
1. 24 Bishop Leibold junior high students who represent all three of our parishes, St. Henry, Our Lady of Good
Hope, and St. Mary of the Assumption, advanced to the Montgomery County Science Day.
2. 9 Bishop Leibold 7th and 8th-grade students advanced to the State Science Day. Students included:
○ Katie Cool
○ Cassie Eckert
○ Camille Fultz
○ Ashley Gebhardt
○ John Gilbert
○ Arpita Gulati
○ Owen Major
○ Molly Noga
3. 14 Bishop Leibold teachers were among the 509 teachers recognized statewide
4. Over 100 students participated in our STEMpm after school program last year.
"This award speaks to the strong Science and Math programs that are established at our school" says Beth Allaire,
STEM Coordinator for Bishop Leibold. "this was a team effort, and our STEM program fosters the skills needed to
engage in scientific investigation."
More information about the STEM program at Bishop Leibold School can be found online at www.bishopleibold.org