Bishop Murry installs 16 as acolytes at seminary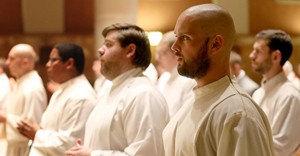 Staff Report
Sixteen men took a formal step on their journey to ordination Nov. 4 when Bishop of Youngstown George V. Murry, SJ, installed them as acolytes.
Bishop Murry presided at the Mass and installation in the Chapel of Saint Gregory the Great at the Athenaeum of Ohio.  The bishop handed each of the 16 men installed a chalice and paten and said: "Take these vessels with bread and wine for the celebration of the Eucharist. Make your life worthy of your service at the table of the Lord and of his Church."
The men replied, "Amen," and handed them back.
"I'm very proud of our seminarians; they are courageous and joyful, and it gives me great joy and confidence as they take a further step toward ordination and ministry as priests," said Father Benedict O'Cinnsealaigh, president and rector.
Ministry of Acolyte is one of the three formal, liturgical steps toward diaconate ordination. These steps begin with the Rite of Candidacy followed by the Ministry of Lector and then the Ministry of Acolyte. With the blessing of God and the Church, the Rite of Ordination is the final step.
"It was a beautiful Mass and is always a special occasion when Bishop Murry comes to visit," Fr. O'Cinnsealaigh noted. "This was especially true as he came directly from the Synod in Rome and shared some interesting insights and great stories. It was truly fascinating."
To see a full photo gallery of the installation at the Athenaeum's website, click HERE.
ARCHDIOCESE OF CINCINNATI
Mark Christopher Bredestege
Zachary William Cecil
Christian Alexander Cone-Lombarte
Ambrose Tyler Dobrozsi
Andrew Jacob Hess
Michael Natale Mazzei
Joseph Timothy Scott
Jeffrey Michael Stegbauer
Jedidiah Tritle
ARCHDIOCESE OF LOUISVILLE
Robert David Barnell 
DIOCESE OF TOLEDO
Kevin David Moebius
DIOCESE OF TULSA
James Sterling Porter III
DIOCESE OF YOUNGSTOWN
Matthew Alyn Humerickhouse
Simon Mino
Matthew Louis Zwilling
FATHERS OF MERCY
Br. Victor-Antonio Moratin, CPM
Information provided by The Athenaeum of Ohio/Mount St. Mary's Seminary.