USCCB to meet next week, Archbishop Schnurr nominated in treasurer election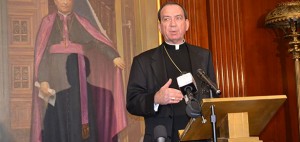 Staff Report
During their Nov. 16-19 general assembly in Baltimore, the U.S. Conference of Catholic Bishops will vote for a treasurer-elect for the USCCB as well as chairmen-elect for six standing committees.
Archbishop Dennis M. Schnurr of Cincinnati, and Bishop John M. LeVoir of New Ulm, Minnesota are both nominated for the position of Conference Treasurer.
Archbishop Schnurr served as conference treasurer from 2005 until 2008. He has also served multiple USCCB committees, most recently as chair of the Committee on National Collections.
The bishops will also consider a variety of other issues at the meeting.
The following bishops were nominated as chairs of the following committees.
Committee on Catholic Education
″  Archbishop Robert J. Carlson of St. Louis
″  Bishop George V. Murry, SJ, of Youngstown, Ohio
Committee on Clergy, Consecrated Life and Vocations
″  Archbishop Samuel J. Aquila of Denver
″  Archbishop Joseph W. Tobin, CSsR, of Indianapolis
Committee on Divine Worship
″  Bishop John O. Barres of Allentown, Pennsylvania
″  Archbishop Wilton D. Gregory of Atlanta
Committee on Domestic Justice and Human Development
″  Bishop Frank J. Dewane of Venice, Florida
″  Bishop Robert W. McElroy of San Diego
Committee on Laity, Marriage, Family Life and Youth
″  Bishop Frank J. Caggiano of Bridgeport, Connecticut
″  Archbishop Charles J. Chaput, OFM Cap., of Philadelphia
Committee on Migration
″  Archbishop José H. Gomez of Los Angeles
″  Archbishop John C. Wester of Santa Fe, New Mexico
The bishops will also elect board members of Catholic Relief Services (CRS) and the Catholic Legal Immigration Network, Inc. (CLINIC).
More information on the meeting agenda is available online: www.usccb.org/news/2015/15-143.cfm.