Body & Soul: Vegetable Jambalaya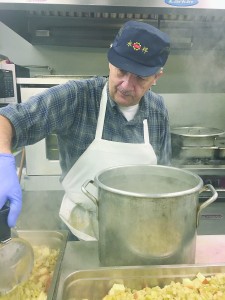 Vegetable Jambalaya by Leanne Brown. Serves 6. Cost per serving $0.65 $3.90 total.
Writes Brown, "I don't make the jambalaya exactly the way they do down South, but this vegetable-heavy version is faster and just as good."
Ingredients:
2 TB veg oil or butter
1 med onion, chopped
1 green bell pepper, stemmed, seeded & chopped
3 stalks of celery, chopped
3 cloves of garlic, finely chopped
½ sm green chile, finely chopped
2 large tomatoes, chopped
2 bay leaves
1 tsp paprika
1 tsp garlic powder
1 tsp cayenne pepper
½ tsp dried thyme
½ tsp dried oregano
1 tsp of Worcestershire sauce or soy sauce
¾ cup long grain rice
3 cups of veg or chicken broth
salt & pepper, to taste
Possible additions if desired:
slices of fried sausage
cooked shrimp
left over cooked meat, tofu or beans
Directions:
1) Place a large, heavy-bottomed pot over medium-high heat and add the oil. After the pot is hot, add the onion, bell pepper and celery. Cook about 5 min until translucent but not brown.
2) Add the garlic, chile, tomatoes, bay leaves, paprika, garlic powder, cayenne, thyme, oregano, salt, pepper & Worcestershire sauce. Let everything cook until some of the tomato juice releases, about 1 min.
3) Add the rice and slowly pour in the broth. Lower the heat to medium and let the dish cook until the rice absorbs all the liquid; 20 to 25 min. If you're using any additions, throw them in to cook with the rice after 15 min have passed.
4) Taste and adjust the salt, pepper or any other spices.