Book Review: Dining with the Saints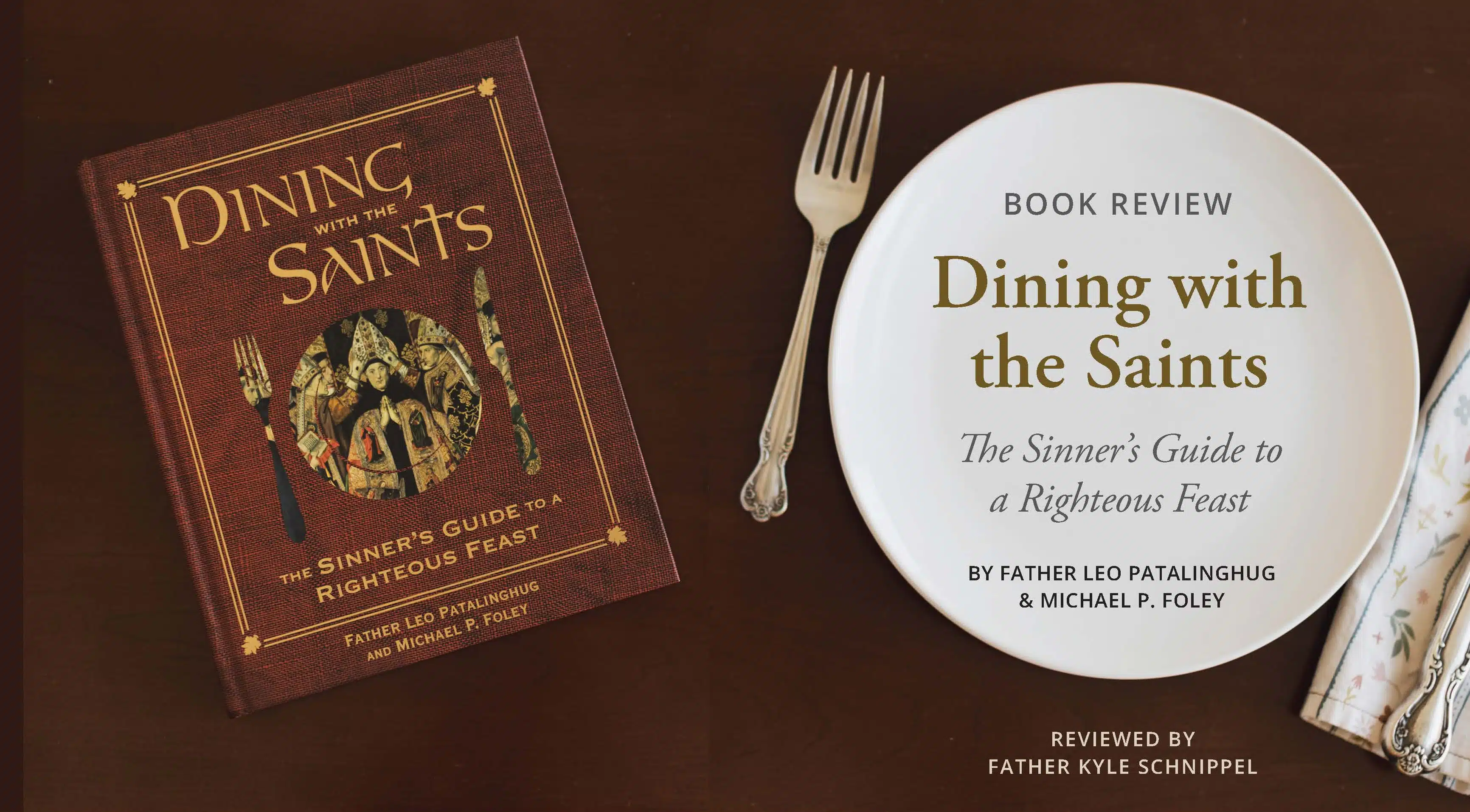 The saints are alive and present to us; they desire to be with us and to accompany us on our pilgrimage through this vale of tears. Yet they often feel distant, in part because we have lost that sense of mystery in our world. As a friend often says, when we stop celebrating the sacred, we start celebrating the profane.
Part of the struggle is knowing how to recognize and celebrate the saints throughout the year. Some families celebrate their children's patron saints in addition to their birthdays. But this still leaves open how to celebrate those feast days.
An encouraging answer is provided in Dining with the Saints: The Sinner's Guide to a Righteous Feast, by Father Leo Patalinghug, renowned chef and EWTN personality, and Dr. Michael P. Foley, author of Drinking with the Saints. The authors outline wonderful ways to celebrate and honor the saints who unceasingly pray for us around God's altar in Heaven. They also aim to help families re- gather around the table, at home, to eat as a community. In our busy worlds, this is a lost tradition that Dining with the Saints may help revive.
On to the recipes. A shortcoming of many cookbooks is the use of exotic and hard-to-find ingredients. Where does one find saffron on a Tuesday in June? I'm very happy to report that such elusive ingredients are kept to a minimum in Dining with the Saints. That doesn't mean the recipes are boring or bland—as evidenced by the Basque Burnt Cheesecake for the Feast of St. Ignatius of Loyola (July 31). Similar to a regular cheesecake, it is baked longer for a deeper and denser flavor.
Recipes feature regional flavors, as well as reflect traditional devotions. St. Lucy (Dec. 13) features "Eyes- of-Saint-Lucy Buns" to honor her bravery as a young lady when faced with torture. St. Joseph (Mar. 19) features "St. Joseph Bread" to honor the Holy Family's bread-winner. Some recipes are revivals of old dishes: "Stamppot" for the Feast of St. Norbert (June 6) is one I will certainly add to my usual routine. A German sausage and potato dish, it is simple yet showcases satisfying flavors for a saint known for his life's simplicity.
Even if it was only a collection of saints' short biographies and related recipes, this book would be successful. However, one small, daily addition elevates the whole experience: the "Food for Thought" section's theme, which is taken from the saint or recipe to provide a conversation starter for the family at dinner. Dining with the Saints invites us to put down our phones, pick up our spatulas, and honor the saints who long for us to join the eternal banquet of Heaven.
Father Kyle Schnippel is a priest for the Archdiocese of Cincinnati.
Dining with the Saints: The Sinner's Guide to a Righteous Feast, Father Leo Patalinghug and Michael P. Foley; Regnery History (2023); $39.99
This article appeared in the June 2023 edition of The Catholic Telegraph Magazine. For your complimentary subscription, click here.