Book Review: 'Holy Goals' a great gift for young athletes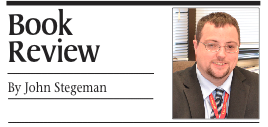 September 2013
If you were a resident of the Diocese of Springfield, Ill., you would be used to a rather unique sight.
Your bishop, in that case, would be The Most Reverend Thomas J. Paprocki, and it wouldn't seem strange to you to see him wearing full hockey goalie gear, or wearing a runner's bib at the start of a marathon. The 61-year old bishop has taken his first hand experience as an athlete and written a book, Holy Goals for Body & Soul: 8 Steps to Connect Sports With God and Faith, that is a must read for everyone from student-athletes to Catholic school athletic directors. The book is published by Ave Maria Press and was co-authored by the bishop's brother Joe Paprocki. It went on sale in March of this year.
Regular readers know that for the past few months I've maintained an online column on the topic of sports and faith, but Bishop Paprocki's book takes that mix to a new level by virtue of his easy style and theological expertise.
Bishop Paprocki's eight steps are; fear, frustration, failure, fortitude, faith, family, friendship and fun. Though the first three in the list have negative connotations, the bishop explains that each can bring an athlete closer to God.
Concerning fear, he writes, "In the end, we have nothing to fear, because if God can overcome death, as he did in raising Jesus from the dead, he can overcome anything. And so, our everyday fears need not get the best of us."
Holy Goals for Body & Soul includes teachings from the Catechism of the Catholic Church, heavy but appropirate use of scripture and a great many anecdotes from famous athletes, specifically hockey players. It also includes prayer and reflections.
Bishop Paprocki, who writes that some call him the 'holy goalie,' uses both his first-hand knowledge of sports and his role as a spiritual leader to create a book that helps put the role of sports in the life of a Catholic in proper perspective. The Archdiocese of Cincinnati has recently made many strides in this arena as well, making this book a great read for local student-athletes.