Ursuline Sisters' outreach ministry offers hope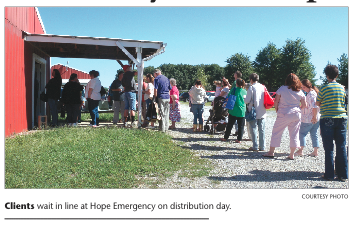 September 2013
By Eileen Connelly, OSU
The Catholic Telegraph 
LYNCHBURG — It might be a family who has fallen on hard times due to the tough economy and needs assistance with the necessities or one who has lost everything in a fire or flood.
Regardless of their situation, residents of Adams, Brown, Clinton and Highland counties can find hope at through a social service outreach program co-directed by Ursuline Sisters Lucia Castellini and Sandy Bates.
The Hope Emergency Program began in 1975 when Sister Dorothy Thompson began collecting food and clothing for the poor in an area of southern Ohio where there were few other resources. Sister Miriam Thompson later ran the program, which changed locations several times over the years. Sister Marjean Clement became director of Hope Emergency after Sister Miriam retired in 1995. Sisters Lucia and Sandy have served as co-directors of the program since 2000.
When Hope Emergency first opened its doors, the organization served approximately 50 families a week. Today, food, clothing and household items are distributed to an average of 260 families weekly. Some families need short-term assistance as they cope with job loss or a personal disaster. Other require more long-term assistance to help their income stretch to cover the necessities, such as medication, rent and utilities.
Wednesdays are distribution day at Hope Emergency and the line forms early outside one of three red pole barns that houses the organization's administrative offices and where food is dispensed. The other buildings are used for receiving, distribution of clothing and non-food items and storage. Hope Emergency receives a small number of grants to help support the program and partners with other area food banks, but most of its financial support comes from individual donors. Sisters Sandy and Lucia expressed their gratitude to the archdiocesan parishes that support Hope Emergency in a variety of ways, from monthly collections to holiday Giving Trees. They include St. Columbkille, St. John Fisher, St. Angela Merici, Holy Cross-Immaculata, St. Andrew and St. Gertrude.
Sister Lucia's brother, Bob Castellini, CEO of the Cincinnati Reds, has been a big supporter of the Hope Emergency Program. Part of the Castellini Group of Companies, Merchants Cold Storage provides freezer space when needed, and the Crossett Company and Club Chef send regular shipments of fresh produce. The Ursuline Sisters, staff and volunteers of Hope Emergency are also special guests at a Reds game each year. "The Reds have won every year we've been there," Sister Lucia noted.
She and Sister Sandy truly enjoy their ministry at Hope Emergency, in particular the opportunity to connect with the clients and hear their stories. While it's not a faith-based organization, God's presence is obvious at Hope Emergency and "we evangelize without saying a word," Sister Sandy said. "People say to us, 'God brought us here,' and they evangelize us. It's very humbling to realize how much they've been through and how they've turned to God with trust and acceptance."
Seeking assistance from Hope Emergency is difficult for many of their clients, Sister Lucia acknowledged. "So many of them have never had to seek help before, so it is hard. But, they stand in line with smiles on their faces. It helps me realize how important it us for us to be here for them. This isn't just a job; it's a ministry."
With only seven very committed part time staff members to run the entire operation, Hope Emergency's dedicated volunteers play a vital role in every day activities and behind the scenes tasks. Much of the work on distribution day is done by volunteers, while others sort clothing, portion food, help with office work or maintenance, and assist with fundraising.
Longtime volunteer Martha Murphy, who welcomes clients as they arrive, said, "It's just a happy place to be. Sisters Sandy and Lucia believe in the clients and make sure everyone is treated with dignity and respect. That makes this a very compelling place to volunteer."
"I like the spirit here and the compassion for the clients," added Cathy Curry, who assists with portioning fresh produce for distribution.
And the clients appreciate the respect and dignity with which they are treated. On a recent Wednesday, Eva Davis, a mother of five from Adams County, visited Hope Emergency to pick up clothes and school supplies for her children. She admitted that even with her husband working, times have been tough. "It's hard with a big family," she said. "It's good to be able to come here at the start of school and at Christmas. There are good people at Hope Emergency and they've helped us out with whatever we've needed. "
For more information, visit www.hopeemergency.com.