Book Review: No Pulling Back – Tale of a Fighter Dog
Anyone who's ever owned a dog has probably sat and wondered from time to time what's going on in that furry head.
Ruth Ann Hanley, a former Cincinnati area resident (graduate of Ursuline Academy) takes that wonderment and molds it into a character in her first novel, "No Pulling Back – Tale of a Fighter Dog."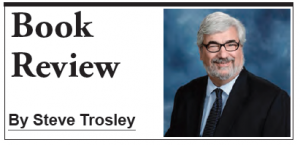 The former author-turned-estate attorney, now-author-again takes us on a journey from the brutal and bloody first century A.D. Roman games where the hero, a Rottweiler named Daemon, battles bears and cruel keepers to Judea, where he learns about love from John the Baptist and a extraordinary man named Jesus.
The story of how he is saved from the vicious battles of the area by a Roman Centurian to how he comes to follow John and Jesus as their ministries begin and end, imaginatively seen through canine eyes, is often moving, and thought-provoking.
Consider: His partner was gone. He knew that. At the time of the accident, when the boat had overturned and the prow had hit Daemon in the head above his right eye, he had lost consciousness for a few moments and been separated from Taursus. After struggling to the bank, vomiting water into the sand and falling into his discharge, Daemon looked for him. Where was he? He was not on the bank. Was he in the water? He had played so many tricks on Daemon, called him "dumb" so many times, that Daemon could have believed another trick. Yet, this time he was not to be fooled.
He plunged back into the swollen, raging waters to search. Until nightfall he battled debris crashing down the river and got pounded until his body throbbed. Still he searched . . . until he was engulfed and dragged under water by the dangling branch of a large tree that rolled down the river. Under water his limbs flailed up and down, right and left. They were uncontrollable. Panic took him as he swallowed a huge mouthful of water. Then, just as quickly as it had taken him under, the tree shot him back to the surface. There, with strength born of terror, he struggled free and back to shore."
The book makes for interesting summer reading and offers some excellent messages. While graphic and brutal in part, it is true to the historical period it covers and the author is not given to gratuitous violence.
Hanley's website says she is an animal lover, photo-journalist, writer and recently retired attorney.
She has over 50 credits in national magazines including short fiction, photo journalism, humor and how-to. Animal pieces include those written about draft horses: percherons and black Welsh; goats; cattle; an old dog and an orphaned wild bird. No Pulling Back is her first novel and also her first story told through the eyes of a dog.
She researched a number of animal behaviorist sources to produce the book, all of which bolstered the author's courage to write this dog's story. For more information on these sources she has included a short bibliography at the end of the novel.
This book review by Steve Trosley originally appeared in the September 2014 print edition of The Catholic Telegraph.