Throwback Thursday: Computers were all the rage in 1983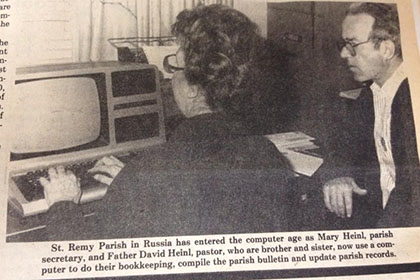 Staff Report
Throwback Thursday is here again and today we're taking a look at a March 18, 1983 edition of The Catholic Telegraph.
The full story, featured below as a photo, notes that St. Remy parish in Russia, Ohio had adopted the use of a computer into parish office life, replacing a now-lonely typewriter. Featured in the photo are then-St. Remy pastor Father David Heinl and parish secretary Mary Heinl, his sister. 
In 1983, PC World magazine debuted its first issue, TIME magazine nominated the personal computer as the Machine of the Year and by the end of the year there were still just 10 million computers in use in the United States. According to this 1983 article in The Catholic Telegraph, parishes had only been considering use of computers for about five years so it was a big step.
The article calls words like "profile," "disc" and "hardware" exotic terms.
The model of computer featured is a TRS-80 Model III. It was known for its streamlined look as compared to the Model II it replaced and for complying with FCC regulations on radio interference.
According to some sources, the Model II put off such interference that an AM radio placed next to the device could be used to provide sound. The TRS 80 originally used cassette tapes to store date. A 5MB hard drive could be purchased for $1,500.
Thirty years later, the offices of St. Remy are equipped with a modern AccuPro PC that runs Window's 7, which requires at minimum 16GB — that's 3200 times as much storage as the TRS-80 attachment.
Perhaps more amazing than the technological advancements computers have seen since the 1980s, is the fact that the particular model shown in this image is still around.
That's right, St. Remy's very first computer still exists. St. Remy Office Manager Maria Hoehne sent The Catholic Telegraph a photo of the old TRS-80 Model III now sitting lonely in the parish basement, probably awaiting the same fate that befell the typewriter that came before it.
Welcome to The Catholic Telegraph's edition of Throwback Thursday. Throwback Thursday is a weekly online activity wherein users of social media share an old photo or anecdote about times gone by. We plan to use Throwback Thursday to highlight the history of the Archdiocese of Cincinnati, and our publication.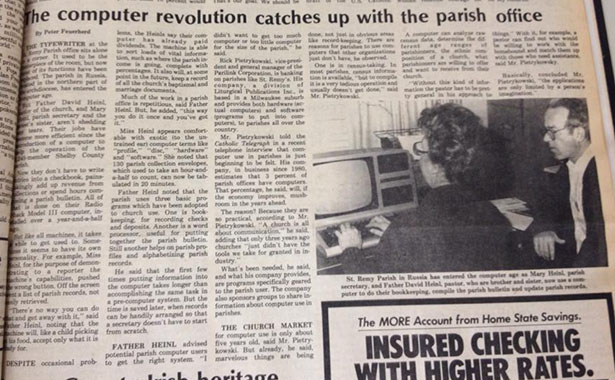 Posted Sept. 4, 2014