Community Blend serves up coffee and change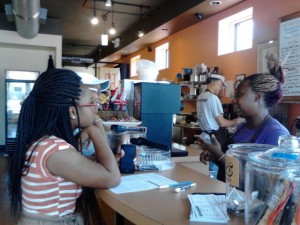 By Eileen Connelly, OSU
The Catholic Telegraph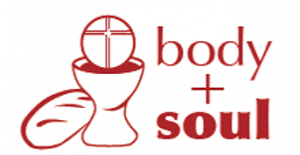 For many years, decades in fact, the storefront at 3546 Montgomery Road in Evanston sat vacant. That all changed on May 19 when Community Blend, the newest employee owned, cooperative business created by Interfaith Business Builders, Inc. (IBB), opened it doors to serve up coffee and change in the surrounding neighborhood. 
The project was four and half years in the making, said Ray West, executive director of IBB, as the organization, comprised of people and congregations from the Cincinnati religious community, searched for available properties in local low income neighborhoods. Their vision, said West, was to create ownership/employment opportunities, contribute to revitalization in Evanston and provide a community gathering place.
The coffee shop is funded in part by grants from the Catholic Campaign for Human Development (CCHD), the anti-poverty, social justice program of the U.S. bishops, administered locally by the archdiocesan Catholic Social Action Office. Many other organizations, including Evanston Community Council, businesses, churches, institutions and individuals also invested time and funding in the cooperative venture. Xavier University's Williams College of Business and Community Building Institute were also important partners on the project.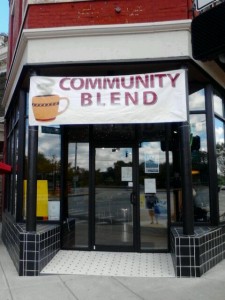 "We're excited to be involved in something that creates a spark of economic development in Evanston," said Tony Stieritz, director of the Social Action Office. "In his encyclical Caritas in Veritate ("Charity in Truth"), Pope Benedict asserted that the old ways of doing economic development aren't always serving the common good. If we're ultimately interested in building an economy of compassion, we need economic models that have the human person at their core. The cooperative model is one that puts the human person at the center of economic activity."
Under the co-op model, each employee goes through a six-month training period before they are approved as an owner of the coffee shop. All owners receive one vote and one share of stock in Community Blend. They experience both the responsibilities and pride that accompany owning a business, noted West. "To me, what's important is that piece of ownership," he said. "We're creating an opportunity for people to have a voice in the workplace. More and more communities are recognizing the need to become creative and create businesses that will get people back in the workforce.
Bilal Muhammad, worker/owner at Community Blend, who grew up in Evanston, said, "This is a chance to revitalize the neighborhood. Hopefully, it will be an anchor in the business district and build bridges among the people. One of the issues here is that people don't have a stake in the neighborhood. This gives us something to maintain, build on and helps us look to the future."
Feedback from neighborhood residents has been positive, said Tina Michel, also a worker/owner. "Older people, who remember the building as a pharmacy, come in and look around and think this is great. We're becoming really visible in the community. Our best marketing is word of mouth," she said.
The tantalizing aroma of freshly brewed coffee and cheerful smiles of staff members greet visitors to Community Blend. The shop serves fair-trade coffee, tea and chocolate, ice-cold smoothies, delicious locally made baked goods and made from scratch sandwiches, featuring a variety of meats, cheeses and veggie options. Bags of coffee, both ground and whole bean, are also available to take home. The selections include Mind, Body and Soul, the house blend, as well as Love Buzz, Ethiopian, Columbian, Congo, French Roast and Decaf.
On a recent weekday morning, as a diverse group gathered for their morning coffee and goodies at Community Blend, the sight brought tears of joy to worker/owner Ivy Bell's eyes. "It was beautiful, the best feeling ever," she said. "Down the road from here is the 'hood,' then in the other direction, you have better living. We're right in the middle and we're bringing change to the neighborhood. This is a place where you don't see peoples' differences. It's a place where we're bringing together people together to just enjoy a good cup of coffee and conversation."
For more information about Community Blend, visit their Facebook page HERE.
Body & Soul is a feature that hopes to highlight faith-filled folks who nourish others through their ministries, other food related topics and perhaps even heavenly inspired recipes. Please send any story ideas to Eileen Connelly, OSU.
—-
This Body & Soul feature originally appeared in the September 2014 print edition of The Catholic Telegraph.