Book Review: The Silent Knight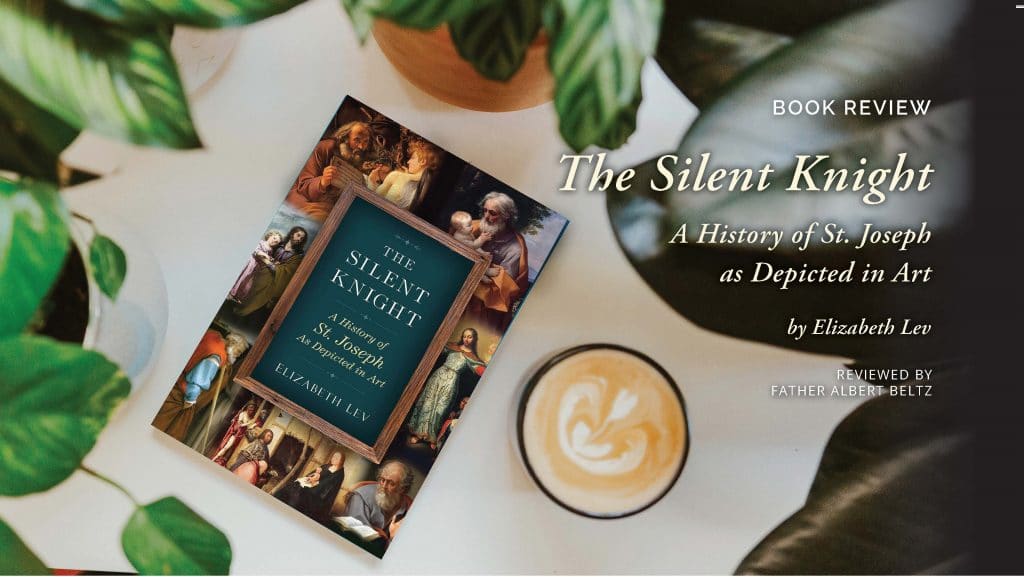 Dr. Elizabeth Lev's The Silent Knight: A History of St. Joseph as Depicted in Art is a worthy addition to the many works reviving devotion among the Christian faithful to this great saint. A visual treat, the text showcases finely reproduced images on almost every other page of semi-glossy paper. Dr. Lev discusses these masterworks in lucid detail, including paintings, mosaics, precious metals and carved sculptures. This creates a sense of Dr. Lev personally guiding us through a virtual gallery and inviting us to study each work while she teases details from the sacred compositions.
The Silent Knight is a worthy follow up to Dr. Lev's earlier book, How Catholic Art Saved the Faith: The Triumph of Beauty and Truth in Counter-Reformation Art. Similarly attractive, this previous publication broadly highlights the development of Catholic art and faith during the upheavals of the late Renaissance and Reformation eras and through the vigorous response of the Baroque period, an art-historical range for which Dr. Lev is best known. The Silent Knight's artwork, however, spans 17 centuries of artistic expression and innovation across cultures, a breadth of time and style that far exceeds the author's usual scope of research and expertise. Although she makes a fine foray into Josephine art's early developments in the first third of the book, her 15th through 18th Centuries' knowledge fills a considerable portion of the 14 chapters. Only one final chapter briefly acknowledges the modern era's Josephine images, a mild disappointment. Yet Dr. Lev's earnest labor and passionate devotion to art and faith shine brilliantly in this book.
With her characteristic playful humor and conversational style, Dr. Lev engages us as a friendly companion on a journey through art history that readers are sure to enjoy. Chapters are short, blending serious headings with comical turns of phrase, like Renaissance Mr. Right or Joseph Goes for Baroque, but the joyful, light tone does not undervalue the text, which gathers a wealth of historical, cultural, artistic and theological research for this saint who has been elusive for long periods of history.
Dr. Lev reveals this often enigmatic figure's exciting complexities by exploring the diverse contexts that inspired, subdued and even necessitated the fashioning of his likeness among the faithful. She brings to life a figure who, far from being a silent observer in our salvation history, embodies a faithful servant, active laborer, loving father, vigilant protector, evangelical missionary and powerful intercessor for all.
I highly recommend The Silent Knight for spiritual reflection, and further, hope that it encourages artists and patrons in our own time to, as Dr. Lev concludes, "muster their creative courage to serve as faithful squires to this silent knight."
Father Albert Beltz is a Catholic priest in the Diocese of Toledo.
The Silent Knight: A History of St. Joseph as Depicted in Art, by Elizabeth Lev; Sophia Institute Press; 240 pages; $18.95; published Dec. 20, 2021
This article appeared in the May 2022 edition of The Catholic Telegraph Magazine. For your complimentary subscription, click here.