Brigid's Path: Helping New Mothers and Infants Overcome Addiction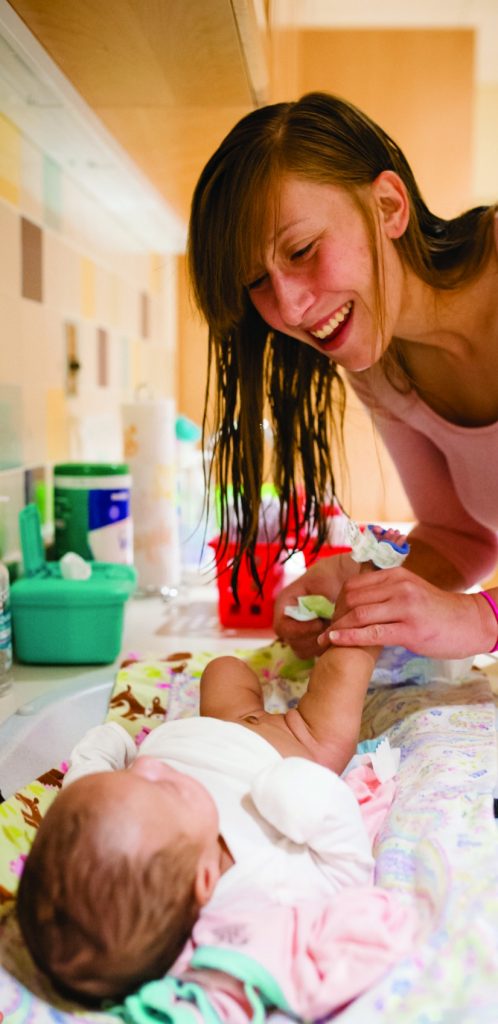 by Mark Danis
Unexpected circumstances can open us to the call the Lord has for our life. Such was the case for Jill and Nick Kingston when they discovered their passion to serve the babies of mothers addicted to drugs, which affects about 80 babies daily in the U.S. In 2014, when the couple was caring for the first of their many foster children, they made the decision to organize Ohio's first, and the nation's second, newborn recovery ministry, Brigid's Path. They officially opened in 2017.
Today the ministry named for St. Brigid, the patron saint of newborn babies, has a clear focus. According to Jill, their executive director, "We want to improve the health of newborn babies and mothers impacted by addiction. We offer grace for the past, support for the present and hope for the future."
The guiding theme for the ministry is echoed in Psalm 25:4: "Make me to know your ways, O LORD; teach me your path."
Brigid's Path provides a number of services to babies and mothers. They offer mothers support in overcoming dependency, assistance finding housing, legal help, support getting licenses and other forms of identification, as well as assistance with education. They can also refer women to mental health and substance use professionals.
Brigid's Path provides families a safe, secure and welcoming environment. "So often," said Jill, "these women are stigmatized for how their bad choices affect the health of their baby; this is not the case at Brigid's Path. Many of these women have been the victims of difficult childhoods themselves."
The babies supported at Brigid's Path range from newborns – many admitted only 24 hours after birth – to six months of age. Babies receive the medical care and compassion necessary to free them from the drugs to which they were exposed in utero. This process takes about 10 days. The average stay for mom and baby at Brigid's Path is about 45 days, but they can stay up to 90 days.
One of the most heart-warming and critical elements to a baby's success, according to Jill, is the involvement of volunteers they call "cuddlers." These volunteers rock, walk and cuddle babies as they go through the painful experience of overcoming their exposure to drugs. They provide the necessary blessing of human contact, which is enormously beneficial to the recovery process for both babies and adults.
According to Kingston, "some of these women do lose custody of their children, but it is seldom something they choose." Success depends on a few key factors: health, economics and social and spiritual support. The staff at Brigid's Path provide ongoing assistance for at least one year.
As for spiritual support, Brigid's Path has the profound blessing of a small army of the Sisters of the Precious Blood praying for them constantly. These prayers help the many women who get back on their feet and recover from addiction. The goal is for these moms to return to Brigid's Path to volunteer as peer coaches, supporting other moms facing the same challenges. These victorious moms know the difficult path.
Though thriving families are the focus of Brigid's Path, the ultimate goal is creating an environment that allows these vulnerable families to achieve their God-given potential on their own path to freedom.
If you too have a heart for this mission, please contact them at brigidspath.org.
This article appeared in the December 2020 edition of The Catholic Telegraph Magazine. For your complimentary subscription, click here.