Bring Jesus Along with September Family Activities
September 2013
Staff Report
The kids are back in school, the summer is in the rear-view mirror and football season is on the horizon. September has a slew of opportunities for social engagement with your family. Take some time this month to make sure those engagements are centered on Christ.
Tailgating with Christ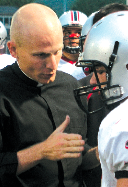 For game day, whether you're headed to the game for tailgating or at home, start the festivities by praying for the food, safe travel, safety of the players and officials: A Sample prayer may be "Lord thank you for today's gathering and the food we are about to eat. We ask that you watch over the players and officials of the game to keep them safe and healthy. Be present among the fans and travelers to the game that we may be a witness to your great glory. Watch over us Lord and all those who travel to and from the game. We ask this in your name, amen." Follow that by an Our Father, Hail Mary, and Glory be.
Share this quote from Pope Francis: "Even if the team wins, the game without beauty, graciousness and team work, both the team and the fans lose. Before being champions, you are men, human beings with your talents and your defects, heart and ideas, aspirations and problems, Even if you are stars, remain men both in your sport and in your life." –Pope Francis
(Attention Bengal Fans, start your day at mass downtown before the tailgate: St. Xavier (Sycamore Street) 7 a.m., 9 a.m., 10:30 a.m.; Holy Cross Immaculata (Mount Adams) 8 a.m.; St. Peter in Chains Cathedral, 8:30 a.m.; Old St. Mary (12th Street Over the Rhine) 9:15 a.m. -Latin Mass, St. Louis (8th & Walnut) 10 a.m.; St. Francis Seraph (Vine and Liberty Streets, Over  the Rhine) 10 a.m.)
Oktoberfest Pretzels (the Trinity)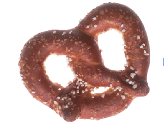 Find a basic pretzel recipe and make Oktoberfest Pretzels. Monks called pretzels pretiolas, Latin for little rewards. Legend has it that pretzels were designed to help children understand the Trinity. Monks would also use these if children could recite a bible verse and the pretzel would be there reward. In your family, after making the treats, have family members either recite or read their favorite bible verse.
St Vincent DePaul Feast day
Make September, St. Vincent DePaul month. Have the family:
• Take some time and do fall cleaning and collect clothes, old furniture, household goods, etc. and donate to the local thrift store or St. Vincent DePaul at your parish
• Take pocket change and make a St. Vincent DePaul jar and donate it to your local St. Vincent DePaul chapter at your parish at month's end.
• Choose a day of the week and fast and pray for awareness of those in our archdiocese who are in need.
• Volunteer as a family at your local St. Vincent DePaul chapter.
• On Friday, Sept. 27, prepare a soup dinner and offer prayer and reflection of poverty and a pledge of what your family will do to help your community.
Sunday, Sept. 15: Mend the fence day
The gospel reading for today's mass is The Prodigal Son LK 15: 1-32. Read this passage with your family. Discuss with your family if there is anyone you have had conflict with, a friend, neighbor, or relative. Did someone hurt you by their words, or did you harm someone by your actions?
Before the 15th, pray and reflect and choose what part of the prodigal son parable you represent (the Father longing for his son, the son who squandered his life, the jealous brother).  Make Sunday the 15th the day of forgiveness! Invite the person whom you've had conflict to your home or out to dinner and rekindle your relationship, or simply give that person a phone call and take some time in prayer with them.
"But now we must celebrate and rejoice, because your brother was dead and has come to life again; he was lost and has been found." Luke 15:32
Prayer for the Party (taking Jesus along)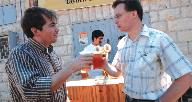 Tonight I'm going to a party and Jesus I need you to come along.
I want to have a good time, and to enjoy myself.
Help me to stay grounded and help me to celebrate the person I am, instead of trying to impress and acting like a person I am not.
Keep me from talking trash and those things that keep me from the gift you've given me.
If things start to get out of hand, take me by the hand and keep me from going over the top.
Give me the gift of listening and wisdom of what true enjoyment is.
Tonight I need you Lord so come along with me, and let's have a good time.