Living Advent Intentionally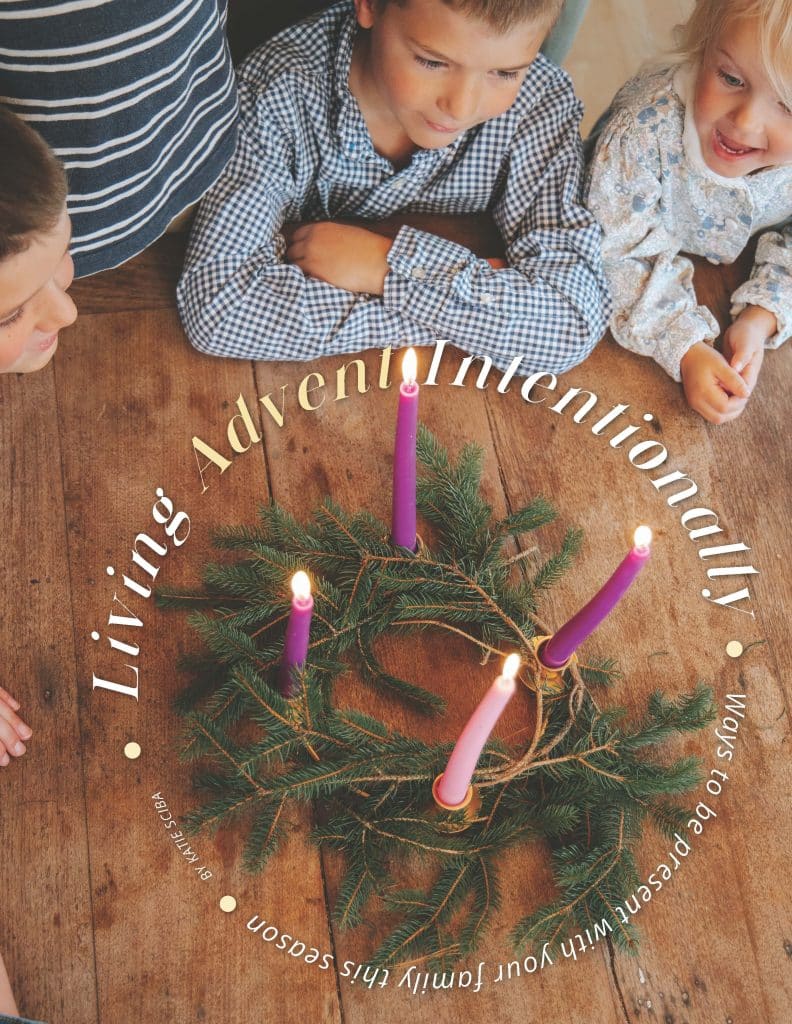 As I recently walked through a retail store with my kids, we saw the whole place decked out in snowflakes, North Pole signage, toy cars with trees strapped on top and, most puzzling, Star Wars Pez in candy striped boxes.
So, I nonchalantly quizzed my kids. "This stuff looks fun. What's it for?"
"Christmas!" a few shouted.
"What's Christmas?" I asked the five pairs of starry eyes. "Jesus' birthday!" my little ones chorused.
"Yes!" I answered, then challenged them to find an item in the store that pointed to Jesus. Not one of us could.
Christmas is the Feast of the Nativity, when Emmanuel was born a tiny, vulnerable newborn to restore humanity's relationship with the Father. It's one of the Church's highest feasts, the most popular holiday recognized around the globe, yet that store and many like it are devoid of the Birthday Boy Himself. There's hardly any evidence of Who Jesus is or that a holy event is about to happen.
I'm not here to wag a finger. I love sugarplums and "Jingle Bell Rock" as much as the next American; but because Christmas, celebrating the Lord's birth, is a feast high enough to have an entire liturgical season, Advent, devoted to ramping up for it, shouldn't our preparations, decorations and celebrations look more Christ-centered?
It's time to ask Jesus to remind us of what Christmas is, to party like the original Christians whose faith we share and to immerse ourselves in the hopeful preparations of Advent.
In preparing ourselves for Christmas, it's paramount to focus on what and Whom we're celebrating. Why the wait? So that, as each one of the following Advent prayerful practices will do, we become immersed in the deep longing and wait for Christmas.
Make Every Sunday Sacred
Each of Advent's four weeks has a theme: hope, faith, joy and peace, respectively. Each powerful virtue gives context to Advent. My parish priest says that faith is, very simply, "the memory that God has changed my life. It's the certainty now of a past experience." Looking back at how the Lord blessed and sustained us opens our eyes to the fact that He's doing it now, too. Hope, my pastor says, is that same certainty applied to the future. In short, God blessed me, He blesses me, and He will keep blessing me.
Joy comes from our own gratitude for the blessings we've been given; and peace abounds from all of the above. When seen through an Advent lens, hope, faith, joy and peace reach new heights at Christmas, yielding a spiritual thrill and greater understanding of what each one means.
Light your Advent wreath every time your crew sits down to dinner. Pray for an increase of hope, faith, joy and peace at the end of each "Bless, O Lord," adding simply, "God our Father, increase our . Amen."
Make a special Sunday dinner for your family. In recent years my crew were invited every weekend to special Advent potlucks with friends, during which we lit an Advent wreath, prayed and enjoyed a meal together. By participating and letting our kids know this was for Advent, we taught them that this period of waiting is sacred and worthy of special recognition.
Read the Gospel of Luke

Beginning December 1, each day read one chapter from the Gospel of Luke, individually or with your spouse or family. You'll finish on Christmas Eve, by which time you'll have a deeper comprehension of Who has come and why. A dear friend of mine read and prayed with this Gospel and simultaneously began attending daily Mass. "I know Who it is that I'm receiving," she told me serenely. The experience strengthened her intimacy with Jesus, making it more personal and bringing to life the sanctity of Christmas.
Pray and read through a Jesse Tree.

The Jesse Tree is named for King David's father, whose lineage brought forth the Savior. This tradition's daily stories, prayers and ornaments tell the story of God's plan of redemption, from Creation to Christ's birth. The Jewish people waited for Jesus, not for four weeks like us but for thousands of years; all the while God made Himself known and present to them. Present-day society is not accustomed to waiting, but our faith calls for it. The Jesse Tree invites us to sit with that wait, to appreciate the great relief for us of the Word being made flesh. In reflecting daily on salvation history, we can ask Jesus to show Himself to us like the Father did in the Old Testament, especially during week #4 when Advent starts to feel like generations instead of days long.
L.M. Montgomery wrote, "Looking forward to things is half the pleasure of them." For every significant event in our lives, there's a delightful buildup of anticipation. Engagement comes before the wedding. Pregnancy comes before birth. If we immerse ourselves in Advent, in this holy expectation of the Lord's presence among us, our hearts will brim with joy throughout Christmas Day and the following season. The secular preparation for Christmas, though exciting, pales in the light of this glorious feast that celebrates the long- awaited fulfillment.
This article appeared in the December 2022 edition of The Catholic Telegraph Magazine. For your complimentary subscription, click here.